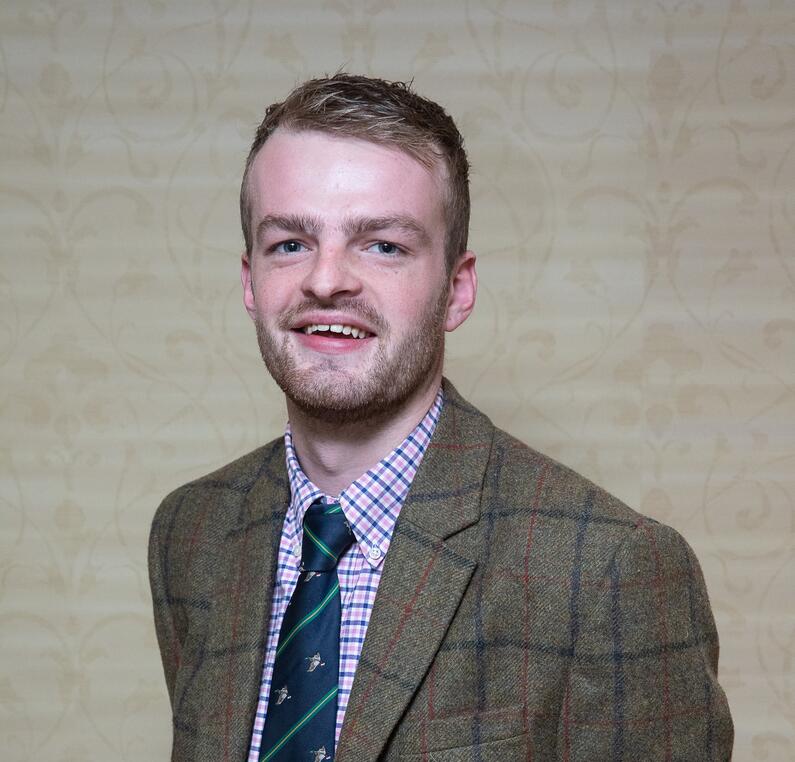 Angus Russell
Having been raised on the 400 Ha family owned arable Toft farm in Warwickshire alongside my parents a passion for a career in agriculture was ignited from a young age. I attended Warwick school for boys and left to study a 3 year extended diploma at Hartpury College in Gloucestershire, completing all courses and training available to me.
After working at Heathcote Farm in Toddington I returned to the family farm in 2012 ready to implement fresh ideas, with my father looking to take a backwards seat I was thrown in at the deep end. He has always said, "We have to give youth a chance". I started a contracting business in 2013 to supplement the main arable holding, it grew quickly acquiring an additional 400 Ha of arable land. With a local spraying contractor we used retiring. I invested in a self propelled machine to fill the void left in the area. I now undertake the crop spraying for 20 plus customers. As a farm, we took an opportunity to diversify through digging two coarse fishing lakes, along with higher-level environmental schemes. Winning UK's most prestigious farm conservation competition the Silver Lapwing Award was a massive family achievement, a culmination of generation's commitment to the environment. With the bottom line getting ever squeezed, two years ago I set up The Warwickshire Farming Partnership, a joint venture farming business covering over 1200Ha of arable land. Together with a neighbour we have shared labour & purchased machinery allowing us to dramatically reduce costs. Yields have plateaued, machinery has risen ten fold and finding skilled and competent labour is becoming ever more difficult. I believe there never has been a more important time to work together. Looking to the future I think this partnership will be invaluable to us through the undoubtedly turbulent times presented by Brexit. At Cereals this year I was runner up in the Syngenta Farm Spray Operator Of The Year, competing as a finalist against people double my age was highly rewarding for me. I have a five-year-old son called Freddie who means the world to me and brings a smile to my face everyday. In my downtime outside work I enjoy days game shooting with friends and family and play 6-aside football on a Monday night with a local group of farmers, not that we are any good. I am a hugely passionate Arsenal supporter, owning a season ticket I try to follow them home & away to my disappointment. I must give particular thanks to John Oldacre Foundation and McDonalds UK & Ireland for sponsoring my scholarship. I am extremely grateful to Nuffield Farming Scholarships Trust for this amazing opportunity. Being awarded one is a huge responsibility & a great adventure and I can't wait to get started.
The Family Farm's Sustainability and Profitability Through Joint Venture Farming
Study Overview
The Family Farm's Sustainability and Profitability Through Joint Venture Farming - My personal experience creating a Joint Venture at home has lead to a vested interest in finding alternatives to increase the viability of the family farms here in the UK. Joint ventures can open a world of opportunities for a family farm, enabling access to machinery and expertise that may otherwise not be available to them. There is also potential to dramatically reduce finance, depreciation & labour costs. However I have found there seems to be a huge stigma surrounding collaboration that I believe needs to be addressed. We are all in the industry together because we have a passion for sustainable agriculture and with an ever-challenging industry we need to look closer to home for support.