There is always something on at Nuffield Farming! Take a look at our calendar for a complete list of our meetings, webinars and industry events that we are attending. Don't forget to stop by and say hello!
---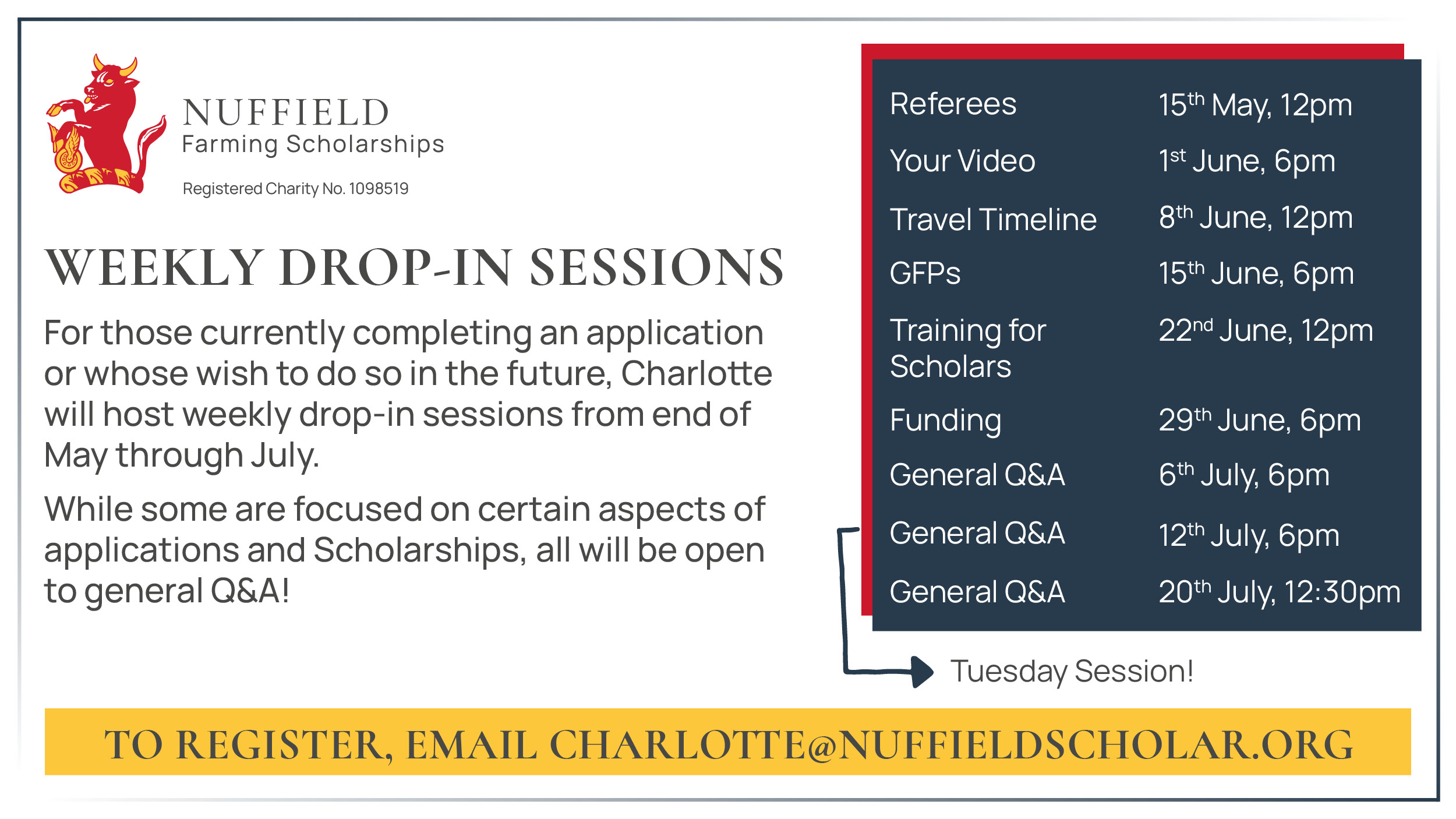 ---
Wednesday 22nd June Regeneration Agriculture Group 
Everyone is welcome to the Nuffield Regenerative Agriculture Group 'get together' at the Groundswell show on Wednesday 22nd June.
Scholars will be meeting at 6:45 at the Big Top for refreshments, please contact Tom Chapman NSch (07717 505287) or Matt Swain NSch (07957 867632) for details.
For more information contact the Tom Chapman (Chair) [email protected]
---
Friday 24th June Nuffield Scotland 
Nuffield Scotland would like to invite you to an event at the Royal Highland Show. On Friday 24th June at 5.00pm Nuffield Scotland will be holding a reception on the M&S stand, where Jenna Ross NSch and Nuffield Scotland's Chair will speak along with other Scholars. Please RSVP by 6th June to [email protected]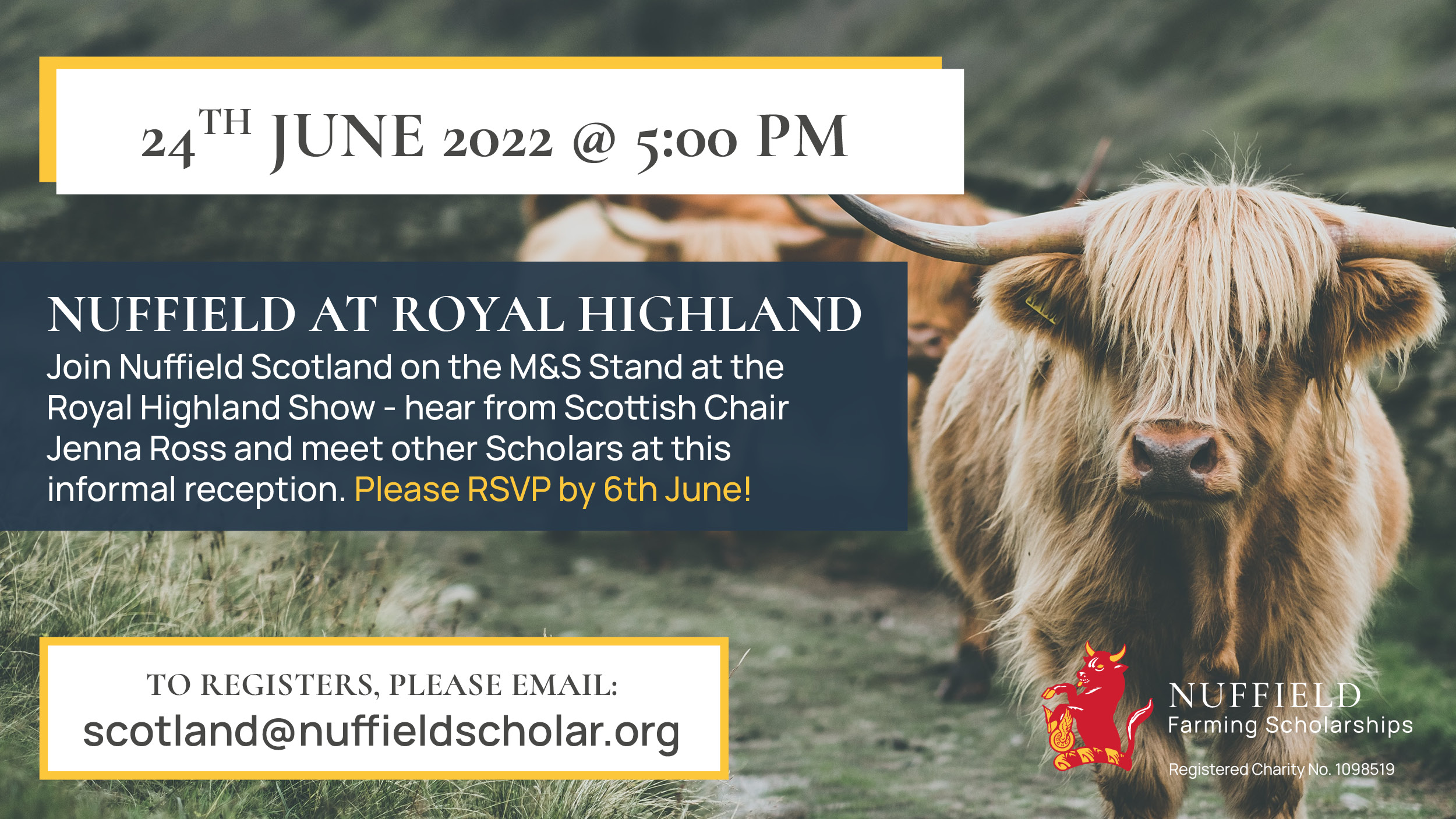 ---
Tuesday 28th June Nuffield Golf Society
Greetham Valley Golf Club by kind invitation of Helen Woolley. Greetham is a great course and central for everyone.  David need commitments as deposits are needed to be paid. There will be a meal in the club house following the game, Oakham and Stamford are lovely places to visit close by.  
If you are interested, please contact David Rose on 07855 252151 or [email protected] 
---
Wednesday 13th July Nuffield Northern Group at GYS
The Nuffield Northern Group invite all Scholars, potential Scholars and supporters to a drinks reception at the Great Yorkshire Show on Wednesday 13th July at 3.30pm at the CLA stand. To register, please email Charlotte at [email protected]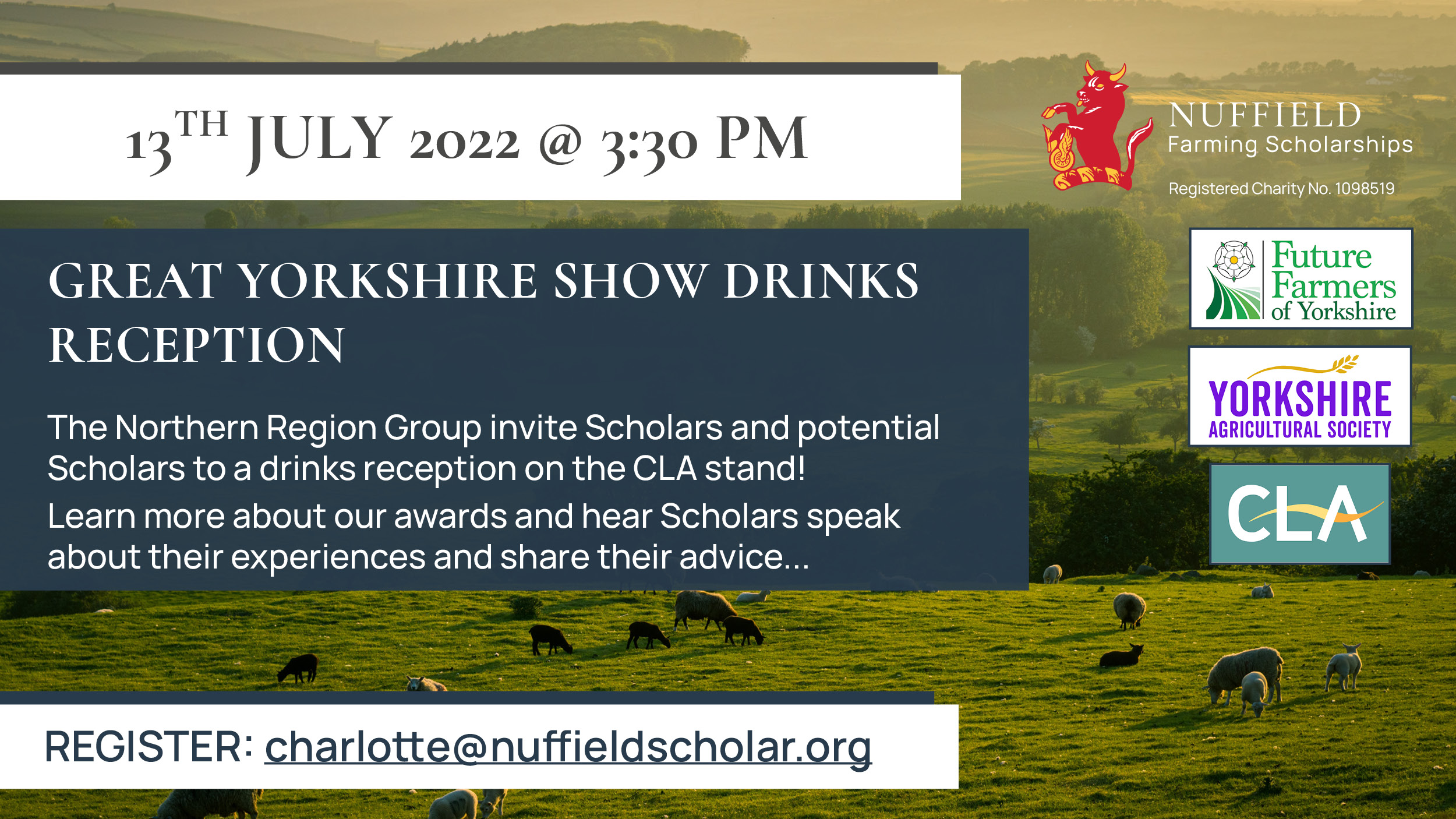 ---
18th - 21st July Nuffield Wales at the Royal Welsh Show
Nuffield Wales will be attending the Royal Welsh Show and are currently finalising the details. More information to follow...
---
28th - 30th September Nuffield Arable Group trip to Cornwall
The Nuffield Arable Group have finalised their trip to include Cornwall Farm Business and the Eden Project, with the full itinerary below. We are very grateful to Nuffield Scholars Jonathon Jones, Jeremy Hosking and Flick Richards for their help and our sponsors Hutchinson's for their fantastic support. Numbers will be limited to 30 so it will be first come first served.
The Nuffield Arable Group have organised an Arable Tour to one of the country's most diverse farming areas, Cornwall commencing in the north of the county at lunchtime Wednesday 28th September to Friday 30th September open to all scholars, potential scholars, partners and their guests. We will be based near Bodmin to be in easy striking distance of the four farms we will be visiting and on Thursday night we will be going to The Eden Project for The Cornwall farm Business Awards which is a sell-out black tie event.
Cost of the three-day Arable Tour to include excursions, evening coach travel, tours, speakers, CFBA dinner and all meals and two nights accommodation based on room share £250 per person. There is a single occupancy room supplement of £75 per person.
If you have any questions or would like to book a place, please contact Bill Young NSch direct 07909 538426 [email protected]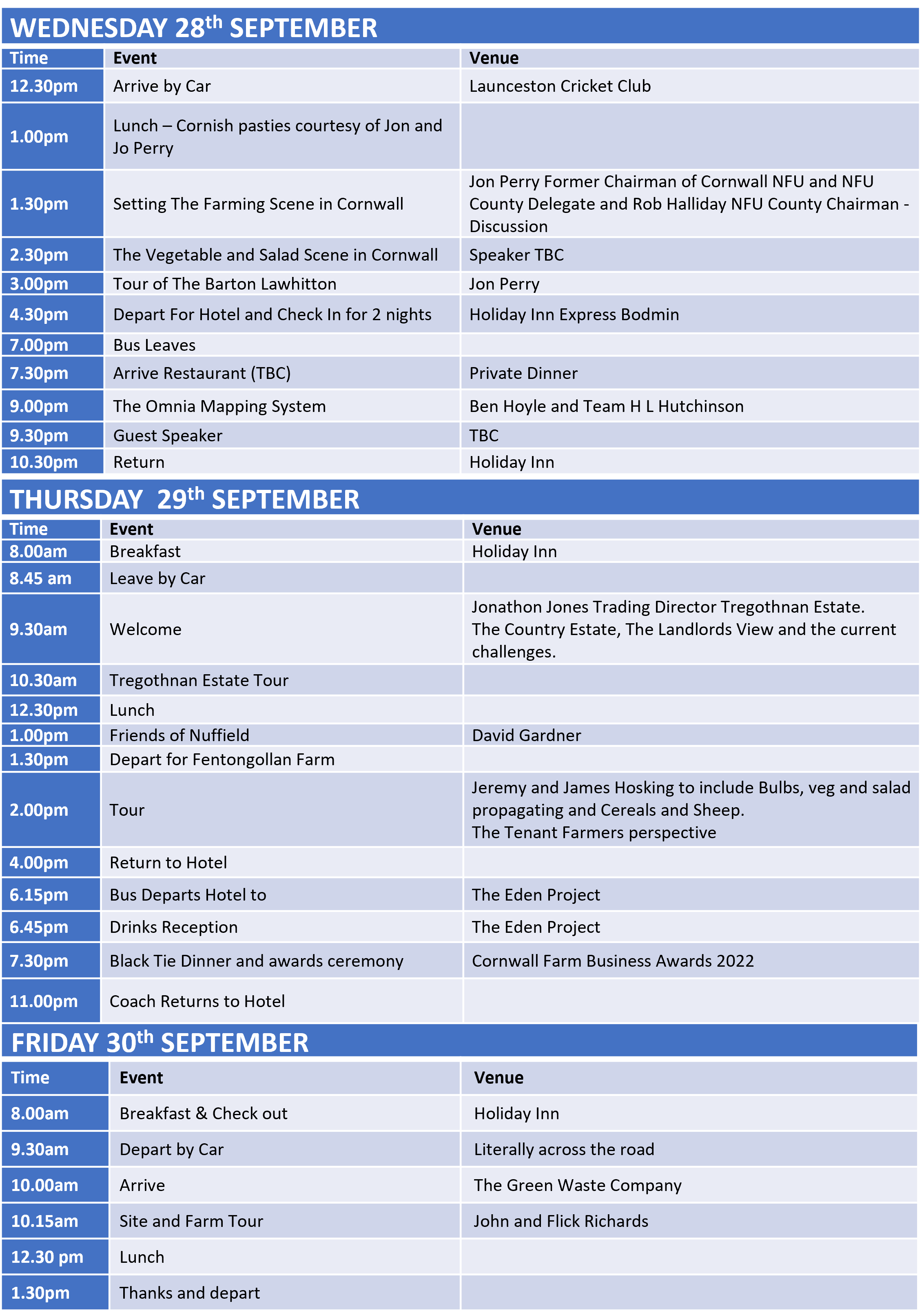 ---