There is always something on at Nuffield Farming! Take a look at our calendar for a complete list of our meetings, webinars and industry events that we are attending. Don't forget to stop by and say hello!
---
Wednesday 28th April 12.30pm – Jamie McCoy 2013 NSch will host a live webinar and Q&A opportunity
This will be a follow on from her Nuffield Study, which was 'The next step for the small family farm'.
Please CLICK HERE to register.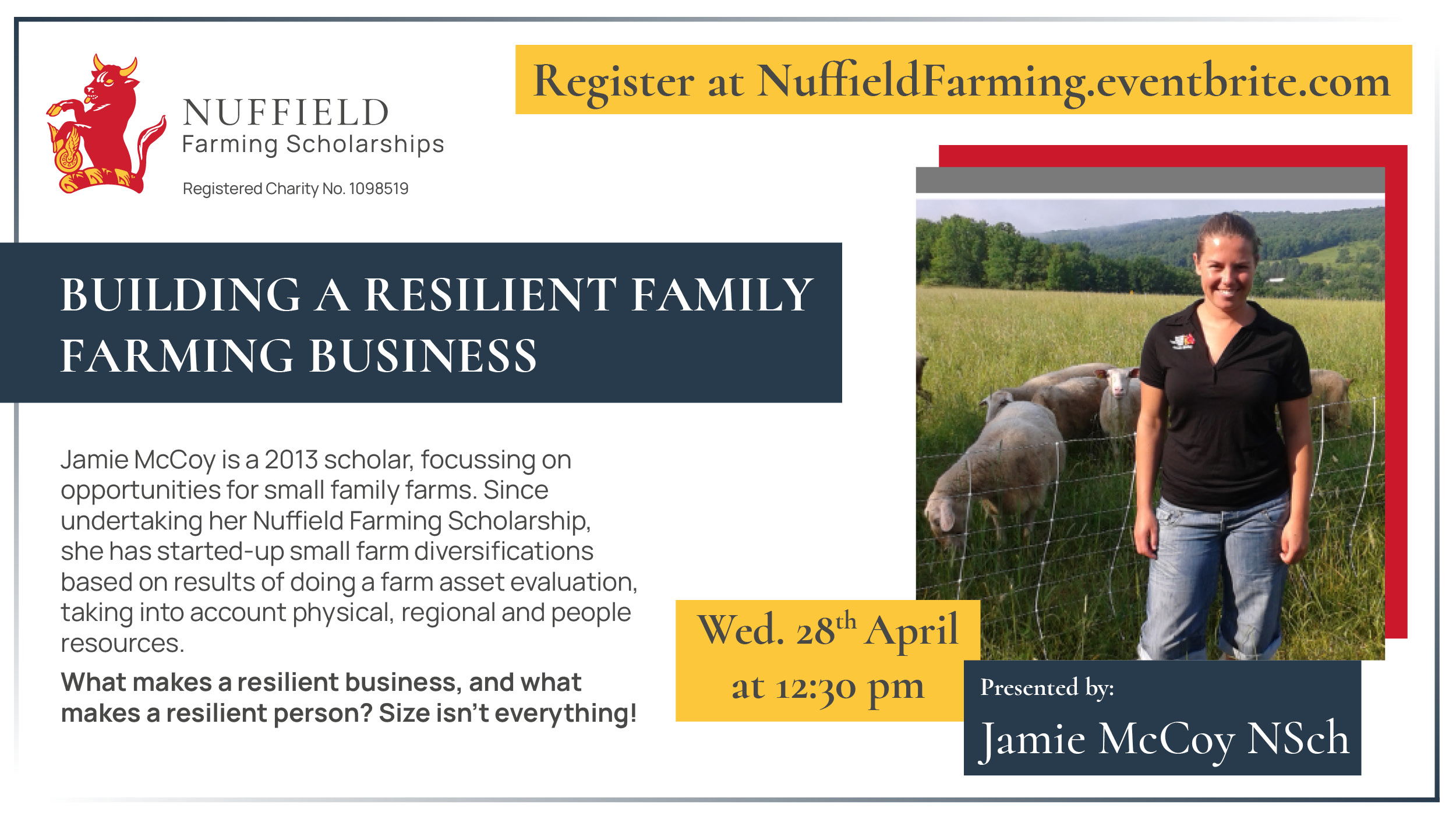 ---
Wednesday 28th April Time tbc Workshop 6 'Improve Your Focus for 2021'
Hosting by Holly Beckett NSch through Focussed Farmers. More details will follow and please do email Charlotte Merson if you are interested charlotte@nuffieldscholar.org
---
Events for Potential Applicants to learn more about Nuffield Scholarships and the application process, hosted by Charlotte Merson. To register, email charlotte@nuffieldscholar.org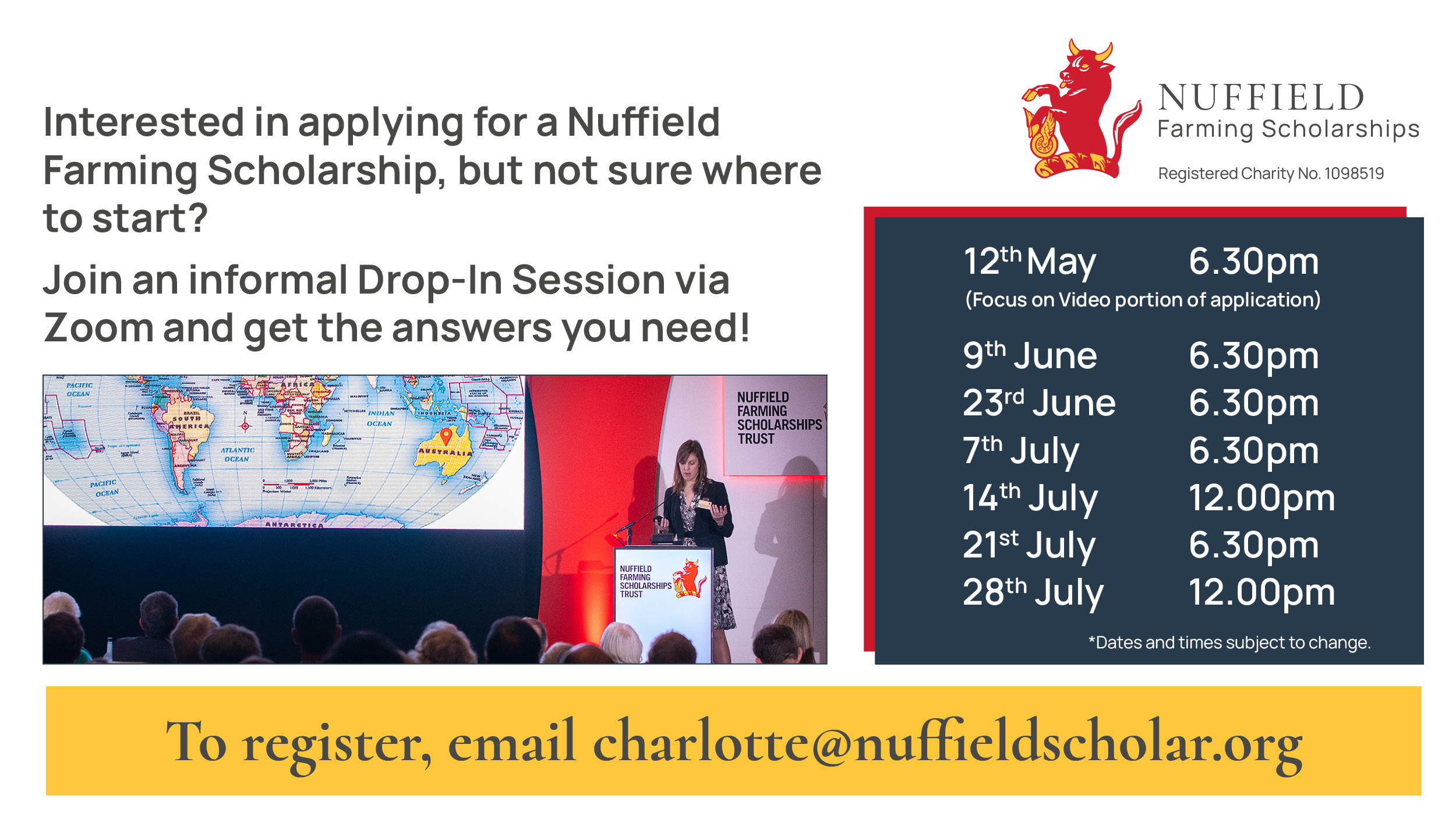 ---
Tuesday 15th June Nuffield Arable Group Visit
A visit in West Susex five miles South West of Gatwick.
Morning - A guided walk around the world famous Knepp Castle Estate hosted by owner Charles Burrell. https://knepp.co.uk/home Whether you are for, against or unsure as to the prospect of rewilding productive farmland there is no denying the idea is informing our new agricultural policy. The Knepp Castle Estate has proven a trail blazer in the rewilding story starting the process fifteen years ago. The story has been turned into a best selling book by Charles Burrell's wife Isabella Tree in her work 'Wilding'. https://www.theguardian.com/books/2018/jun/28/wilding-isabella-tree-review-farm-return-nature

Afternoon - Neighbouring the Knepp Castle Estate - A visit to Westons Farm curtesy of owner director David Elwood. Westons Farm is a 1000 ha farm let predominantly from Christs Hospital School which is located in the middle of the home farm. A truly mixed farm with 600 head of beef as well as sheep, pigs and greenhouses supplying a large and thriving Farm Shop. The 750 ha of arable is based around a long rotation with strong focuses on organic manures, soil health, no insecticides, biodiversity, carbon footprint, precision ag and high yields from the heavy clay soils of the Sussex Weald.

Numbers will be restricted because of Covid. We will operate on a first come first served basis. There will be no charge. Clearly Covid restriction will mean we cannot book accommodation or lunch as a group. However the plan is to notify people where we will all be going as strictly socially distanced individuals/couples. If we can keep Covid compliant we may try to organise an al fresco talk in the evening by a leading expert in carbon credit trading and/or ELMs prospects for arable farmers.

Please email Guy Smith NSch to book a place...
---
Tuesday 29th June at 10.00am Nuffield Golf Society's First Meeting
Meet first for Breakfast at Steve and Meryl Ward Uncle Henrys at 10.00am, followed by golf at Elsham Golf Club to start at 12 noon,  Dinner at 5.00pm.
The Cereals event will be the following day closeby in Lincolnshire. Open to all Nuffield Scholars and Partners. 
Please book by emailing David Rose NSch David@farmeco.co.uk   others games to follow in the year...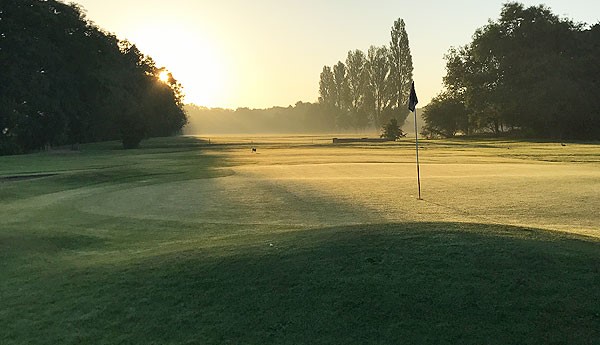 ---
24th to 26th November Nuffield Farming Annual Conference
Likely be at Whittlebury Park, Towcester, Northamptonshire although this needs final confirmation (www.whittlebury.com). We are making plans for this Conference to be fully livestreamed as well. More information will follow...