There is always something on at Nuffield Farming! Take a look below for a complete list of our meetings, webinars and industry events that we are attending/organising. Don't forget to stop by and say hello!
Nuffield Pig Group Tour
On Thursday 12th October the Nuffield Pig Group are holding their Autumn Meet at Uncle Henry's Farm Shop, Grayingham Grange Farm, Lincolnshire and evening meal at the Red Lion.

The daytime programme is from 10.00am to 5.00pm and includes: a farm tour; Zoom with Zimbabwean Nuffield Scholar; Discussion panel on carbon foot printing and emissions reduction, chaired by Trustee David Gardner; a tour of the butchery. There is also a 2 course meal at Red Lion, Redbourne with Speaker Robbie Moore MP NSch

Everyone is welcome and please do also share with others you feel would be interested in completing a Nuffield Scholarship. If you would like to book or have any questions, please email Heidi: [email protected]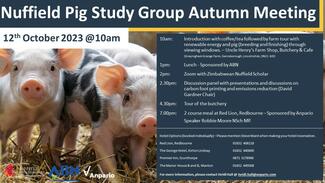 Nuffield 'Super' Conference
This year's Nuffield Farming 'Super' Conference will be held at Sandy Park in Exeter on 14th to 16th November 2023. The Conference is open to all members of the agricultural, horticultural, rural and land-based industries.
Central to the event will be around 35 presentations by Nuffield Farming Scholars who have finished their international travel studying a wide range of topics pertinent to the food, farming, horticultural and rural industries. For more information, Click Here