There is always something on at Nuffield Farming! Take a look at our calendar for a complete list of our meetings, webinars and industry events that we are attending. Don't forget to stop by and say hello!
---
POSTPONED! 15th and 16th September Joint Nuffield Cymru and Nuffield Beef and Sheep group farm visits
Due to the passing of Her Majesty Queen Elizabeth II it has been decided to postpone the farm tours later this week and reschedule for Wednesday the 28th and Thursday 29th of September.
Nuffield Cymru along with the Nuffield Beef and Sheep group extend a warm welcome to inviting all scholars and anyone with interest in knowing more about Nuffield to come along to join them for farm visits in Mid Wales. The plan over the 2 days is below:
Wednesday 28th September 
10 am - John and Sarah Yeomans, Llwyn y Brain
2 pm - Marc Jones, Trefnant Hall
Thursday 29th September
10 am - Rhydian Glyn, Rhiwgriafol
2 pm - Tudor Family, Llysun
When they have a better idea of numbers they will organise lunch at a local pub between farms, and also look to organise something for the Wednesday evening for the people staying over. If you need any information on local accommodation please ask. 
Feel free to join us for one of the days if you are unable to commit to both.
For more information and to book a place, please email Sarah on [email protected]
---
28th - 30th September Nuffield Arable Group trip to Cornwall
The Nuffield Arable Group have finalised their trip to include Cornwall Farm Business and the Eden Project, with the full itinerary below. We are very grateful to Nuffield Scholars Jonathon Jones, Jeremy Hosking and Flick Richards for their help and our sponsors Hutchinson's for their fantastic support. Numbers will be limited to 30 so it will be first come first served.
The Nuffield Arable Group have organised an Arable Tour to one of the country's most diverse farming areas, Cornwall commencing in the north of the county at lunchtime Wednesday 28th September to Friday 30th September open to all scholars, potential scholars, partners and their guests. We will be based near Bodmin to be in easy striking distance of the four farms we will be visiting and on Thursday night we will be going to The Eden Project for The Cornwall farm Business Awards which is a sell-out black tie event.
Cost of the three-day Arable Tour to include excursions, evening coach travel, tours, speakers, CFBA dinner and all meals and two nights accommodation based on room share £250 per person. There is a single occupancy room supplement of £75 per person.
If you have any questions or would like to book a place, please contact Bill Young NSch direct 07909 538426 [email protected]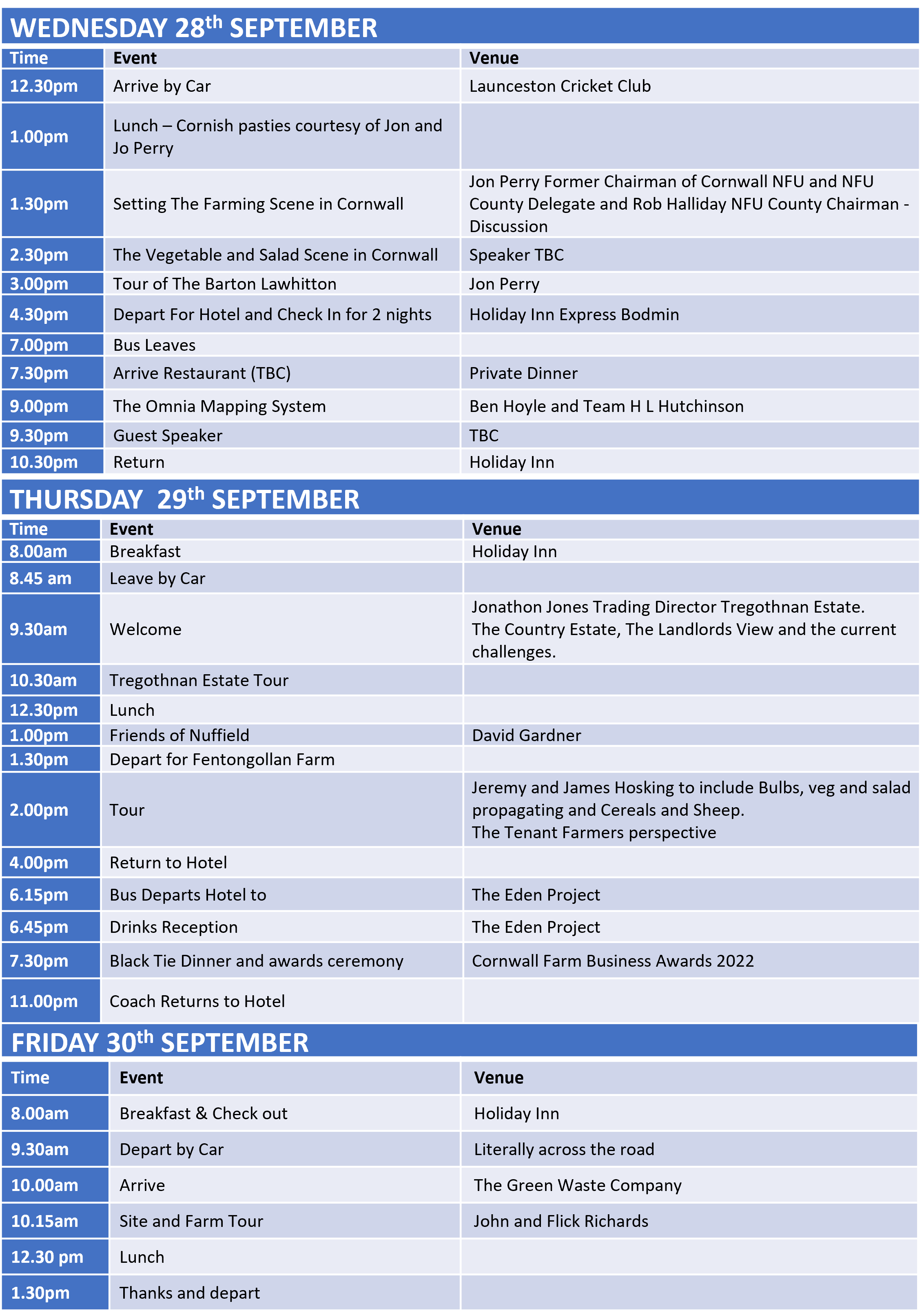 ---
 23rd & 24th November Nuffield Farming Annual Conference at Cardiff City Hall
Tickets are now available for our Conference and please go to our Conference page for more details.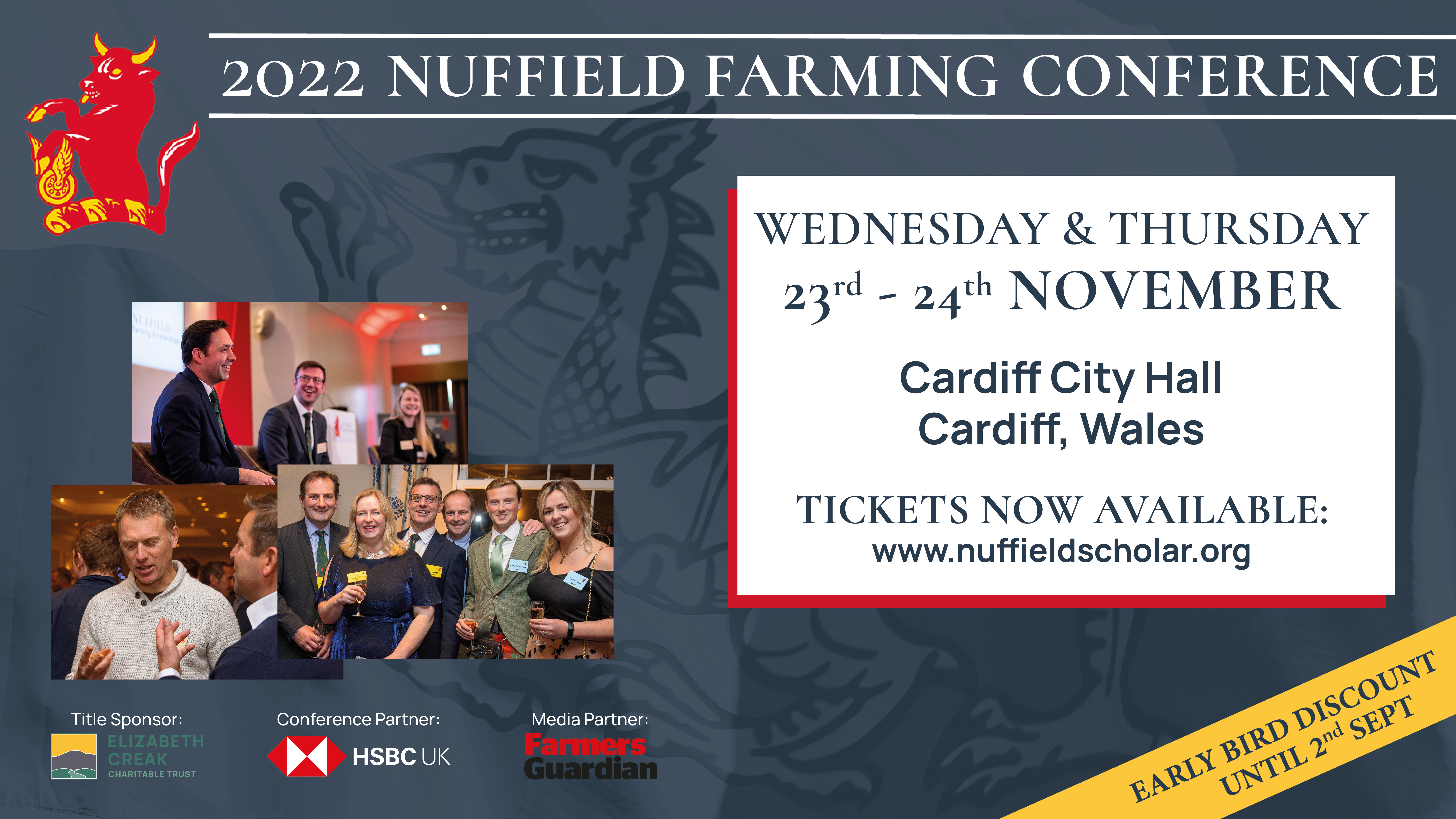 ---