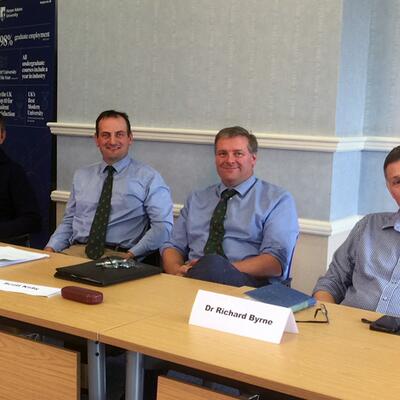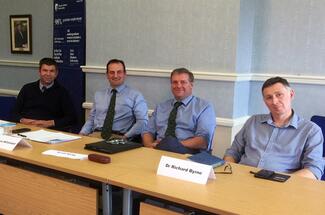 A HELPING HAND – WEST MIDLANDS MOCKS
Led each year by a volunteer panel of West Midlands scholars, mock interviews provide shortlisted candidates with valuable experience and extra encouragement before their London interviews.
In late September, at Harper Adams University, Tim Dobson, Andrew Williamson, Scott Kirby and Richard Byrne provided an interview experience comparable to the 'real thing' by asking candidates a series of authentic and searching questions about themselves, their study topic and current issues in farming.
The questioning lasts for 20 minutes and is followed by a valuable debriefing session giving feedback about the individual's interview performance, particularly about how well they answered specific questions and how they came across.
The debrief typically includes additional advice and suggestions that might be helpful on the day of the interview, as well as the chance for all candidates to ask questions of the panel and learn much more about the NFST and the scholarship programme
"An overriding ambition of the West Midlands mock interviews is to provide candidates with the very best chance of impressing the London panel and thereby maximising their chances of winning a scholarship," says Julie Mate. "Importantly, they are also intended to provide a professional, friendly and supportive experience which leaves all candidates with a good overall feeling about Nuffield, even if subsequently they are unsuccessful."
Mock interviews have been run on an annual basis in the West Midlands for over 12 years. Once again, generous thanks go to Harper Adams University for providing an excellent interview venue.