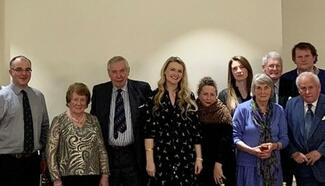 2020 has proven to be one of the most difficult and unpredictable years in living memory. Very few could have predicted a flu pandemic however to the many armed with hindsight, it was always in the pipeline.
This year brought more testing weather conditions. March, April and May proved testing due to the distinct lack of rainfall, whereas February produced problems of exactly the opposite nature. While the weather will not be what 2020 is remembered for, it once again proves the need for farming to adapt and innovate which is what the Nuffield Scholarship programme has become world renown for.
I consider the Nuffield Scotland group extremely lucky as we had our annual get together before Covid-19 took hold. In February, a hearty crowd descended on Turnberry for drinks, dinner, lively discussion and then more drinks. Our after-dinner speaker was Sandy Wilkie covering his time in the Milk industry, Africa and as a local community stalwart. It was a fantastic relaxed environment from which much discussion and debate ensued in one of Scotland's most stunning hotels and surroundings.
As with many agricultural shows up and down the country, the Royal Highland Show was cancelled due to the pandemic. As such, we took our usual Highland Show Friday Night event online this year in the form of a wee WhatsApp group. 2019 and 2020 scholars shared their travel experiences through pre-recorded videos, and we arranged a video montage of past and present scholars to inspire the next cohort coming through. Link to the video can be found here: https://youtu.be/4_9FSci2-YM
Like everybody else, we have no idea exactly what the near future will bring. We have no further meetings planned however we wish all those applying for a scholarship the very best of luck and look forward to meeting the candidates in the virtual mocks. Also, a big thank you to Jenna and all the people who have helped throughout the year. I've thoroughly enjoyed my time as chair and wish Jenna all the best in taking up the chair role in 2021.
Chairman: Jim Shanks | Secretary and 2021 Chair: Jenna Ross