Nuffield Cymru has enjoyed yet another busy year with a number of events taking place for scholars and potential new applicants. The summer visit, which took place on 15th June, was kindly coordinated by Philip and Sarah Hughes and included a range of visits in the Dee Valley, North Wales, looking at diversification, starting at the Rhug Estate near Corwen. The estate is owned by Lord Newborough and extends to 12,500 acres including the main 6,700 acre in-hand organic farm. Philip, the Estate Manager, gave an overview of the various diversification projects on the estate including the award-winning farm shop, butchery, bistro restaurant and takeaway.
The Farm Manager, Gareth Jones, then took the group for a short tour of the farm to see the livestock. The farm prides itself in its organic status and has developed the bespoke Rhug organic brand which includes Aberdeen Angus beef, bison, Welsh lamb, pork, game, chicken, turkey and goose. Keen to try some of this produce, members grabbed a quick lunch at the "On The Hoof" takeaway service, situated outside the farm shop. Due to its position along the A5, the farm shop and takeaway has proved hugely popular by those in need of a pit-stop and the estate has recently opened a Drive Thru at the entrance to the farm. It is believed to be the first Drive Thru, set up on a farm, in the UK.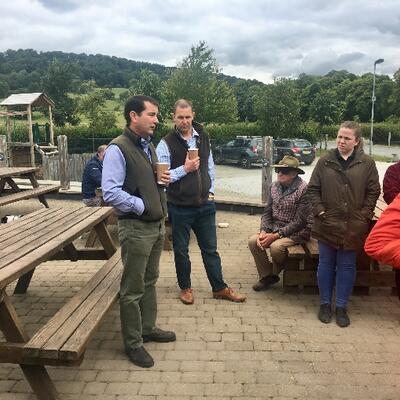 Following lunch, a visit was organised to Rivercatcher, a collection of five-star luxury holiday cottages on the banks of the River Dee on the edge of the Snowdonia National Park and the Berwyn Mountains. Redeveloped from an old farmhouse and collection of old farm buildings, the complex offers an exclusive holiday experience and the owners had recently installed a number of log cabins. Continuing the holiday accommodation theme, the visit then moved on to Hendwr Caravan Park, the family home of Philip Hughes. The park was founded in the 1960s by Philip's father, John, who kindly took the group around the site and showed them the newly installed anaerobic digester providing electricity to the park.
Finally, to conclude the jam-packed day, the group visited Cae Mawr Farm where Sarah runs her edible flowers business named "Eat My Flowers". The group was very lucky to sample some of the hand crystallised flowers which are used to decorate desserts, chocolates, cakes and sweet pastries.
Later in July, both existing and potential scholars met for two informal receptions at the Royal Welsh Show. Large gatherings attended both the Mole Valley Farmers stand and a breakfast reception kindly hosted by HSBC. Euryn Jones of HSBC has been a loyal supporter of Nuffield Cymru over many years and was presented with a small gift by the Chairman of Nuffield UK, Julian Darling.