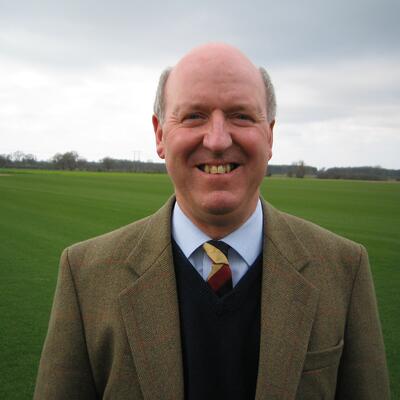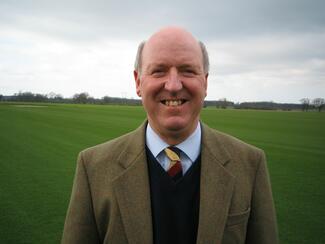 STEPHEN FELL FRAgS, MRICS, NSch 1983
Having trained and qualified as a Chartered Surveyor, I managed a farm in France for 4 years before returning to the UK to manage a large farm and estate on the North Downs of Kent. Several Scholars in Kent encouraged me to apply for a Nuffield Scholarship, and I was very fortunate that my employer supported and encouraged me when I went to New Zealand and Australia to study the production and marketing of prime lamb in 1983/84.
I soon became immersed in the discussions on the production of consistently good quality lamb for export markets, which coincided with the period just before the removal of support in NZ. It was in Australia that a farm I happened to visit run by a Nuffield Scholar had branched out into a completely unrelated enterprise, namely growing a high quality cultivated turf on poor quality sandy soil, and he was putting a huge effort into marketing.
I came back to the UK with some strong messages for our sheep industry, and several valuable pointers for our own flock in Kent. However, the biggest impact was the thought process triggered by that chance visit to a turf farm. We started growing a small area of turf on the family farm in Lincolnshire, and when I left my management job after 9 years, I took over the family business, moving it to Yorkshire, developing the turf business that it is today.
What I learned was, firstly, when travelling on your Scholarship, keep your eyes open for all sorts of opportunities and ideas that might present themselves. Don't focus exclusively on the chosen subject and allow some leeway to follow an intriguing alleyway. Secondly, Nuffield gave me the confidence to "have a go". And thirdly, I learned the value of overseas travel which I continued for many years in the development of the business and I never came back without some new idea for my team to try and put into practice.
At the time of returning to the family business, I wanted to move the emphasis away from producing commodities that were dependent on support mechanisms to be profitable. I wanted to produce products that we grew, marketed and sold ourselves without reliance on external influences over which I had no control. We relinquished the tenancy on a large arable farm growing combinable crops and a substantial sheep enterprise and bought a sand land farm with a good water supply, in the Vale of York. We now grow 700 acres of turf, but that itself became a commodity as other people copied the idea, and so the emphasis has always been on innovation, to have new exciting products so that we can stay one step ahead of the competition. The sheep enterprise now run by my son, is a high value business producing terminal sire rams for sale and consistent quality lambs. A recent addition is a free range egg hen unit catering for increasing egg consumption. I view my personal success as having built a family business with various enterprises, employing 24 people who are dedicated to producing great products with outstanding service.
Nuffield had such an impact on my life that I have continually sought to encourage others to take that wonderful opportunity. I served as Chairman of Nuffield UK, when I established the Regional Groups as a way of bringing regional Scholars together and as a vehicle for recruitment, also as International Chairman, and as co-organiser of the French and UK International Conferences.
I served as Chairman of LEAF – Linking Environment and Farming – for 8 years, in which I led positive change in agriculture, encouraging passionate people to demonstrate that we can farm profitably at the same time as being great guardians of the environment.