After hosting the 2018 NFST annual conference in November, a huge thank you must go to Robert Parker, Heather Wildman and the organising committee for what was a truly outstanding event. Not only was the venue and hospitality first class, the upbeat mood among the past and present scholars made for a great couple of days which was topped off by our own Alex Brewster winning the award for best presentation. It was also good to see a healthy number of perspective scholars attending the event which should translate to a generous number of applications.
A slightly later than normal AGM gathering was held on 3rd March at Floors castle, Kelso. It was a chance for a good social gathering in one of Scotland's most stunning and historically important venues. On that night, our speaker, Rob Dickson, spoke of his time as an international rugby referee as well as his role in local government and his present position at South of Scotland Enterprise. The following day was spent at Kelso races in the warmth of the hospitality marquee where much racing knowledge was touted but never resulted in winning bets.
Later in March, Nuffield Scotland held a reception at the Scottish Parliament, after a very kind invitation from Emma Harper MSP who had attended the NFST conference back in November. Alex Brewster, Dr Jenna Ross and Sir John Campbell all gave presentations on the night which focused on the value of the scholarship scheme, and the impact it can have, both on personal and business development, as well as on the wider agricultural sector. The event was attended by a number of MSPs, as well as esteemed industry representatives, including Dr Liz Barron-Majerik, Director of Lantra Scotland, Prof Wayne Powell, Principal and Chief Executive of SRUC, Alan Clarke, CEO of Quality Meat Scotland, Andrew McCornick, President of NFU Scotland, Keith Redpath, Chairman and Membership Subcommittee for the Farmer Club and former Chair of CARAS Scottish panel, Jon Strickland, MacRobert Trust Chairman and Ewan Pate, agricultural journalist and Chairman of RSABI. Following the formal presentations, Nuffield Scotland hosted a relaxed and informal reception, allowing an opportunity for networking and discussions. The evening was concluded with a tour of the debating chamber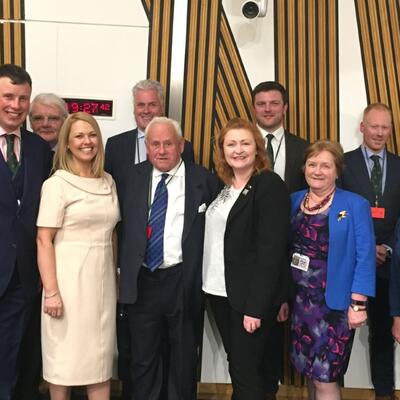 One of the highlights of the Scottish calendar is the Royal Highland Show, and this year our Nuffield Scotland reception was very kindly hosted by Legal firm, Turcan Connell. Grierson Dunlop hosted the "ringside" event after speaking at the NFST annual conference back in November. We had a number of presenters at the event, including 2018 returning scholars, Jamie McIntosh and Dr Jenna Ross, and 2019 current scholars, Penny Montgomerie and Richard Walker. Presenters gave a fascinating overview of their scholarships, giving perspective scholars in the audience a taste of this life changing opportunity.
This year we added a new event to the Nuffield Scotland diary by holding a drop-in reception at Turriff Show in Aberdeenshire. This was kindly hosted by SAC Consulting/SRUC, and despite the forecast, it turned out to be a scorcher of a day. Thank you to Dr Jenna Ross for initiating and arranging this event.
Finally, thank you to Nuffield Scotland Secretary, Dr Jenna Ross, for her hard work in organising these events, and to all those who have helped and participated. We look forward to many more events in the not so distant future!
Jim Shanks - Chairman Nuffield Scotland