NUFFIELD POULTRY GROUP
AUTUMN POULTRY STUDY TOUR TO CALIFORNIA 2017
The International Tour was organised by Steve Pritchard and was sponsored by Elanco, Cobb, Hyline and Premier Nutrition. Particular logistical issues challenged the group including several flight cancellations caused by the lethal wild fires.
The group flew into San Francisco and recovered over the weekend before starting poultry visits to Pitman Farms who process half a million chickens, turkeys and ducks from 94 farms. Later Stan Reid from Cobb explained the breeder market of 80mill parent stock standard chicken and 1mill slow growing strains. Scholars then met with Bill Mattos, President California Poultry Federation who explained California is the largest agricultural state in the USA with 40m population and there are proposals to ban the import of caged eggs from 2023. The group learned half the chicken consumed in California is through food service channels. Strangely 'No Antibiotic Ever' chicken (one of the marketing terms) is cheaper to buy than grow and no renewable power is used as it can't be sold back to the grid.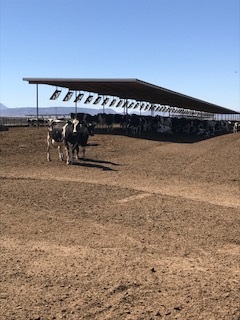 Sunrise Farms near Sonoma was next where the group was joined by Todd Curry and Curt Schmidt from Hyline. Barns with the 'Sunrise System' are used with ¾ aivary type systems being maintained since July 2017. There are no Free Range as land is too expensive ($120K acre with vineyard $200K acre).
Next was Roseacre Farms, Arizona where they had 20% cage free egg production in 2017. Staff were paid a bonus to work in cage-free systems due to the need for greater husbandry skills. Egg washing and UV sanitation was used. Egg processing included pasteurised liquid & dried. Omega 3 and Vit D enriched were also marketed.
During the travels an opportune stop was made at an Arizona feed lot for dairy cows. Fellow dairy scholars might relate to this photo from our own dry summer.
The penultimate visit was to Dupont where the biotech company specialises in enzyme discovery and production. Biological washing powder detergents have cross utilisation with feed enzymes.
The last visit was to Hampton Creek "Just Inc" where the group was introduced to "Just Mayo" and they tasted "scrambled egg" made using a plant based product. A full report is available on the Nuffield Website.
Our annual Farmers Club Dinner was another thought provoking event with Graeme Cook, Deputy Chief UK Vet (DEFRA). There was relief the last seasonal Avian Influenza outbreaks had been limited. Communication and trust at all levels continues to be key.
The 2018 Spring Study weekend was kindly hosted by Werner & Caetlyn Strydom in Lincoln during May. With up to 30 scholars, partners and guests we had a detailed insight into several specialised businesses. First was the P D Hook hatchery caring for 1.2mill broiler chicks per week. Then it was the running of G's Marketing in Cambridgeshire who supply fresh onion, celery, radish and lettuce to major UK retailers and several in Europe. Quite close was Littleport Mushrooms where the state of the art farm has 42 growing tunnels next to a 2.5 megawatt anaerobic digestion plant. 
On Saturday we were privileged to visit the 2Sisters chicken processing plant at Scunthorpe which processes 2.3mill broilers per week and where new innovative levels of hygiene control had been implemented.
Our AGM included a presentation of the study tour to California and updates were received from current travelling scholars Dan Roberts and James Corbett before voting in our new exec team:
Chair: Nick Chippindale
Vice chair: Mike Tyers
Secretary: Sophie Edenborough
The weekend was generously sponsored by Slate Hall Vets, Cobb Europe, 2Sisters Food Group, Kilco, Noble Foods and Trouw Nutrition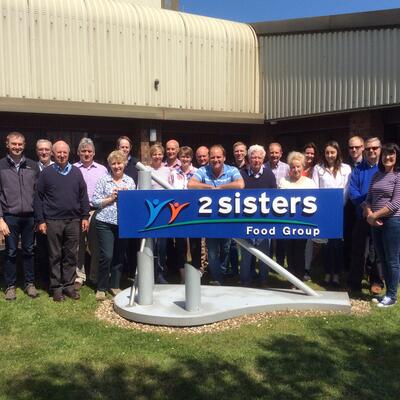 POTENTIAL & NEW NUFFIELD SCHOLARS
The Poultry Group continues to be active in both recruiting and supporting new scholars within the Poultry Sector. This year we welcomed new scholar Jamie McIntosh (MacRobert Trust award) who's scholarship title is to: 'Explore New Ways In Which Eggs Can Be Marketed To Maintain A Steady Increase In Egg Consumption.' Jamie gave a brief explanation of his travels so far. He has an intensive programme of country visits including Colombia. He currently works for Lohmann GB.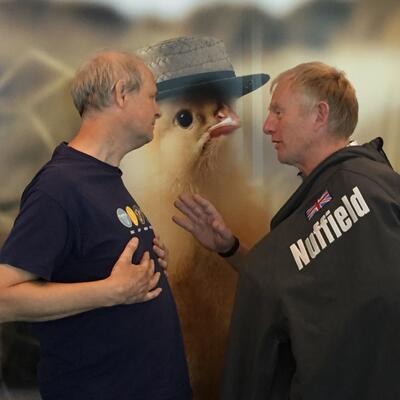 FORTHCOMING EVENTS IN 2018/19
The Poultry Group aims to continue its programme of 3 events per year.
Our 2018 autumn tour to Norway was brought forward to June because of the short daylength. Scandinavia has a global reputation for development in poultry welfare policy and antibiotic free production. Norway is also a potential economic trading model of a country outside the EU. Full report on the Nuffield website.
The next Farmers Club Dinner is planned (March 2018). Our Spring Weekend (May 2019) will to be hosted by Helen and Steve Houghton in and around Northampton.
Andrew Riley, Secretary (outgoing)
Nuffield Poultry Study Group