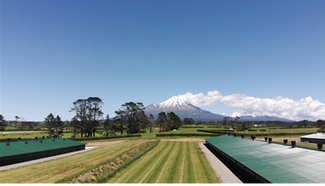 As for everyone this year, the Poultry Group's plans have not quite come to fruition with the cancellation of both our annual dinner at the Farmers Club and our Spring Weekend hosted by a Nuffield Poultry Scholar. However, we did have one thing in our favour; the decision to coincide our 'Autumn' Tour with the Triennial conference in New Zealand in March meant that at least one of our annual activities managed to take place to some extent, although sadly without the Triennial Conference.
I'm pleased to report that all Scholars returned home safely from the tour to New Zealand and huge thanks must go to Lorna Aucott and James Corbett for organising such an excellent week and also to Lorna & John for hosting us at their home near Oamaru, the first 'Spring weekend' outside of the UK I believe. Thanks must also go to Jamie McIntosh for writing the report on the trip and all the sponsors that enabled the trip to go ahead. The full report of the tour is available on the Nuffield website.
Although the week was a little disrupted, we witnessed the huge contribution that agriculture makes to the New Zealand economy. We particularly enjoyed learning about the Mainland egg business when we visited their offices in Dunedin, South Island.
Airport Farm in New Plymouth (photo courtesy of Ed Whiting), on the North Island, was in our Chairman's opinion one of the best examples of how a modern broiler farm should be laid out - at the heart of its success is a simple design ambition: to make things easier for those who work there. All in all a great week and another stimulating Nuffield adventure.
Although the Spring weekend due to be held in Kent this year was unable to go ahead the Poultry Study Group did manage to successfully have its first 'Virtual AGM' with an excellent turnout of members. We are keeping our fingers crossed that Doug Wanstall will finally get to host his weekend in Kent next year.
It is safe to say that we are still living in relatively uncertain times and no-one is able to predict which of our usual yearly events we will manage to hold next year but we are tentatively looking at possible destinations for the Autumn Tour with Israel and Czech Republic up for consideration.
As a group we have been pleased to welcome recent scholars Hannah Eastaugh and James Smaldon to the group and we have all thoroughly enjoyed reading their published reports and look forward to hearing their presentations, when they are able to make them. Even though we have not been able to get together physically we remain in regular contact and keen to get back to our usual get together and study tours.