September 24th -26th
A mini tour for autumn 2019 was based on Castle Cary and Bruton in Somerset with the main objective to see The Newt in Somerset.
Scholars gathered at The George on the evening of Tuesday 24th and heard from Nick Mann of the local online business Habitat Aid. Nick supplies plants, trees, shrubs and seeds to improve wildlife habitats. Nick is passionate about the subject and outlined the challenges that he faced in obtaining plant material with local provenance but also in educating end users of its importance.
On Thursday the group of 18 met at The Newt in Somerset close-by. This estate, formerly known as Hadspen House and the Emily Estate, has undergone a dramatic change with the new South African private owners investing extremely heavily. They have created arguably the largest and most exciting horticultural project in the UK for some time! The garden is a celebration of excellence in horticulture and demonstrates the passion for gardening that the owner Koos Bekker has.
Apples are the main feature with possibly the greatest collection of older varieties planted by county or country of origin in the UK. All are trained intensively, decoratively and formally on walls or fences.
Cyder is made on site in a state of the art new micro cellar which the group visited.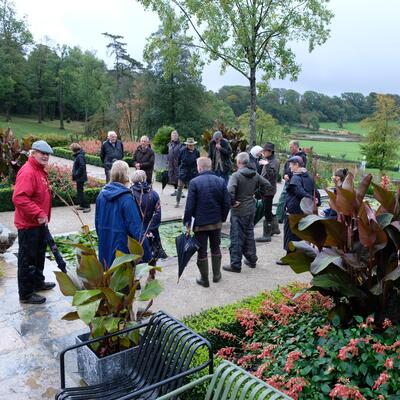 Whilst excellence in horticulture is championed here it is evident that so too are traditional crafts. New buildings have been built to old designs using stone quarried on the Estate. Gates and fencing are made to last several generations, a tunnel has been created to access the large acreage of recently planted standard cider apple orchards on the other side of the main 'A' road. The main house, now one of Britain's most chic hotels, opened earlier in September. There's a spa, local food shop and high end gift shop, cyder café and garden café. Our group enjoyed superb food sourced from the estate and other very local producers in the latter café which overlooks the main garden. This afforded a welcome respite from the frequent heavy rain showers!
A large garden museum will open at the end of 2019 and many other exciting developments are in the pipeline.
Rounding off the day our group visited the Piet Oudolf garden at nearby Bruton's Hauser and Wirth Art Gallery before returning to The George at Castle Cary.
Over supper Anna Jones NSch 2016 gave us a brief summary of her study entitled "Help or Hinder? How the Mainstream Media Portrays Farming to the Public". As a former BBC employee with extensive experience in researching, editing, producing and presenting farming related stories, she talked about the challenges of now being freelance.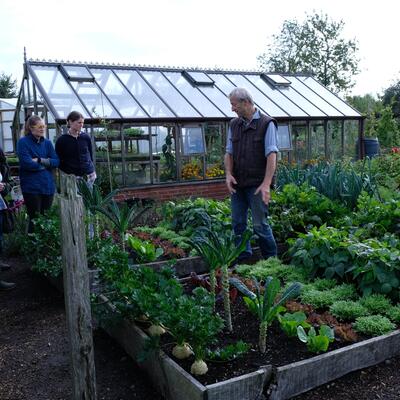 Anna has set up justfarmers.org to train farmers and growers to effectively and confidentially deal with the media. Just Farmers also makes farmers and growers accessible to media producers seeking unbiased and on the ground comments. It seems that there is a distrust of spokespersons put forward by organisations such as NFU, CLA and others.
Anna appealed for more horticultural food producers to come forward to engage with today's media.
Our group's final visit was to 'No Dig' expert Charles Dowding at Alhampton. Charles grows organic vegetables on 0.25acre and supplies local restaurants and shops. He is a prolific author of books on 'no dig' growing and has won countless awards for them. He has a substantial YouTube presence [167,000 followers] and this enables him to get his message out bypassing 'conventional' mainstream broadcasting organisations.
Making and acquiring good compost is the key to Charles' success. It enables him to grow a wide range of organic vegetables without tilling the soil. Plants are raised in modules and planted into a new layer of compost put on top of the previous layer.
Two and some cases three crops are produced from the same slightly raised bed systems.
With a mix of horticulturalists and farmers in the group, a good discussion on the health of soils and unhealthy reliance mainstream food producers have on chemicals ensued.
Thanks for organising this year's tour go to John Farrow NSch and Alan Down NSch '80.
The next Horticulture Group tour is already being planned for Lincolnshire and south Yorkshire in September 2020.