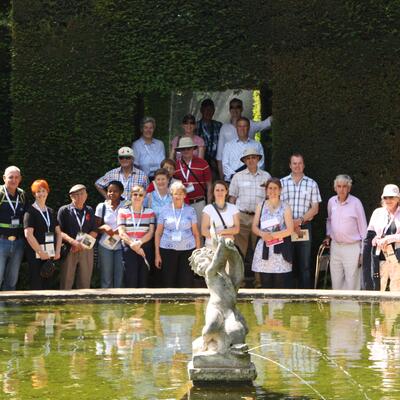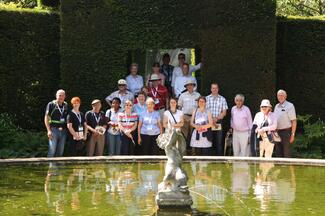 In 2017 our Horticultural Group was joined by some wonderful characters from the International Triennial Conference, in total 26 scholars and partners were with us for our visits to innovative and enterprising family run businesses in Herefordshire and Worcestershire, we also had attendees from AHDB on a couple of days. We travelled from York with the Dairy group to Beckett's Farm shop, where Simon (NSch '87) hosted us and talked us through the development of the business, an inspirational start to our few days. We then visited St Peter Garden Centre, a very successful family enterprise run by the Blake family.
The next day we to Allensmore Nurseries, who supply the multiples and garden centres on a 100 acre plant nursery, run by Brian and Mark Taylor. Attention to detail, environmental impact and enthusiasm for their product was very evident at this visit. Ian Howie (NSch '73) joined us and showed us Kilpeck Church. We then moved to Certainly Wood where George (NSch '01) and Nic Snell (NSch '98) supply over 20,000 tonnes of kiln dried logs and their unique UK natural firelighters "Flamers". We finished the day with a visit to David Harper (NSch '72) and Di, where we enjoyed their hospitality while discussing succession planning and farm diversification, which they have successfully achieved in both cases.
Day 3: we went initially to Hidcote (National Trust), where Liz Nicholson (NSch '94) very knowledgably and enthusiastically showed us round these lovely gardens, followed by an asparagus lunch at the Fleece (N.T.) before our visit to Westland Nurseries, the largest commercial growers of micro-leaf product. Martin Boers is a real entrepreneur, with a total enthusiastic commitment to the industry. We finished the day with a visit to EVG (Evesham Vale Growers), where we saw tomatoes being packed from Springhill Nurseries.
Day 4: We started the day with Richard and Ali (NSch '13) Capper at Stocks Farm. We had a fascinating walk through their apple orchards and 100 acres of hops. Our next visit to Westons Cider gave us an introduction to traditional cider making as well as an overview of modern day production methods and the huge investment required. We then moved belatedly to our last visit Haygrove Ltd., a business started and developed by Angus Davison (NSch '91) for the production and marketing of Strawberries and other soft fruit. This business now grows on over 1000 acres in the UK, South Africa and Portugal. Angus and Beata showed us round with such enthusiasm and optimism for the future. With many thanks to all our Nuffield Hosts.
At the end of September 2018, the Horticultural Group visited the Totnes area. For those travelling from the North there was the opportunity to visit Darts Farm (Michael Dart NSch '09) to see the amazing business that centre's still on its farm shop and farming but is now a retail destination.
The first day, Jez Ralph (NSch '11), who is a director of Timber Strategies, took us on a tour with great enthusiasm of various forestry enterprises on the estate, including agro-forestry a complex three-dimensional forestry. Giant Redwoods (Sequoias) their management and use was our next stop, followed by a visit to the wood yard, which furthered our discussion on the joined up growing, harvesting, processing and marketing of the forestry products to form a vertically integrated business.
Sharpham Estate Trust was our next visit, where we tasted the wines, cheese, walked round the vineyards and managed to eat lunch, before leaving and travelling to Wash Farm, Buckfastleigh, the home farm and base for Riverford Organics. This business is owned and run by Guy Watson since he started his organic business in 1987, until June of this year, when Guy placed 74% of the Riverford business into an employee Trust, meaning that all the Riverford staff would receive a benefit from the Trust. Guy will and does continue to be heavily involved in the business and as such, we were extremely pleased that he spent time explaining the new structure of the business. Second day started with a visit the Garden House at Buckland Monachorum nr.Yelverton, where Nick Haworth, the Head Gardener took us round. Nick's enthusiasm for his garden was a real joy and several non-gardeners were converted by this gem of a garden.
We then went to the Cornish Cheese Co, where Philip Stansfield, a Cheshire farmer who had moved to Cornwall over 20 years ago, had started producing cheese in 2001, after a few words of encouragement from a member of our group (John Alvis NSch!). He has since gone onto make the award-winning Cornish Blue, the business has continued to grow and when we visited a new parlour for the increased cow numbers and a new cheese making facility were being built.
Our last visit was to Kernock Plants, where Bruce Harnett (NSch '14) has with his father, developed a nursery propagating perennials, bedding plants, shrubs and trees. They were awarded UK Grower of the Year for protected ornamentals this year and we could all see why as the attention to detail, the large variety of plants propagated and the new material they were testing all showed a very positive forward looking business on firm foundations. I think the one thing that we all took home from these visits was the enthusiasm and knowledge of all the key people involved in the business' we visited. Many thanks again to our hosts who made this an excellent visit to Devon and Cornwall. September 2019 we will be in Yorks.