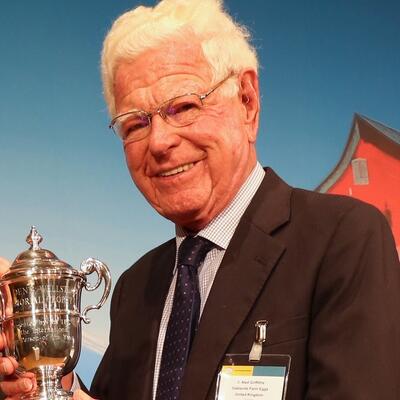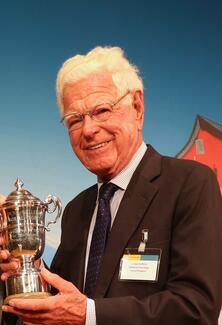 JOHN ALED GRIFFITHS OBE FHAUC, FRAgS, NSch 1974
As an undergraduate at Aberystwyth University in 1950, I visited Capt. Bennett Evans' farm at Plymliman, Mid Wales, and I met his daughter, Jane, who was awarded one of the first Nuffield Scholarships in 1947.
Following my graduation, I became a first generation farmer at Minsterley in Shropshire, at which time I met Edward Stokes, who had also been awarded one of the first Nuffield Scholarships in 1947. I found both of these Nuffield Scholars very forward thinking and inspiring, together with many other Nuffield Scholars whom I visited throughout the 1960s and 1970s.
Following my Nuffield Scholarship in 1973, I realised how much more advanced the USA egg production systems had become and therefore I updated our own egg production equipment. I then continued to keep up to date with technological advances by visiting the USA poultry shows, farms and related companies on an annual basis for many years thereafter.
Today we are one of the largest egg producer and marketers of eggs in the UK, marketing 1 billion eggs per annum. Eggs arrive fresh every day for grading and packing from our own 2.5 million layers in the enriched colony system and 500,000 layers in cage free systems, together with eggs from 30 contracted free range egg producers.
We have the largest in-line egg laying farm in Europe. The entire operation is automated, with eggs arriving from the laying sheds on conveyor belts, being inspected, weighed and stamped by the first MOBA 700 grading machine that was built on site at a rate of 250,000 eggs per hour. The eggs are then boxed and packed by an array of robotic equipment. Eggs produced on site can be out of the hen and on the lorry within three hours, without touching a human hand. This level of technical efficiency is also evident in the laying sheds.
We also produce 900kw of electricity from solar panels and farm 2,000 acres of owned, tenant and contract farms and employ some 200 employees.
I have enjoyed many Nuffield International events all over the world and have welcomed many Nuffield Scholars as guests at our home in Shropshire. The annual visits of the Nuffield Poultry Study Group have given us the opportunity to continue meeting all the present and prospective Nuffield Scholars.
I have been a selector for the BEMB Nuffield Scholars for many years. Today I take great satisfaction in proposing new Nuffield Scholars, giving them advice and guidance, putting them in touch with my countless contacts throughout the world and witnessing their tremendous results and progress within the months and years that follow.
I was awarded an OBE in 1993, in recognition of my services to the poultry industry in the UK and the work that I carried out in the EU for the NFU in Brussels. I was made a Fellow of the Royal Agricultural Society of England (FRAgS) in 1994 and received recognition from the Royal Agricultural Society of England for Excellence in Practical Farming and was subsequently made a Life Governor in 1999. In 2010 we were awarded the Poultry Farmer of the Year.
I was made a Fellow of Harper Adams University College, Newport, Shropshire (FHAUC) in 2009 and an Honorary Life Member of the International Egg Commission (IEC) in 2012.
In September this year, I was awarded the Denis Wellstead Memorial Trophy for 'The International Egg Person of the Year' at the International Egg Commission's (IEC) conference in Kyoto, Japan.
We owe much of our farming business success to many of my mentors that were Nuffield Scholars in their own fields.