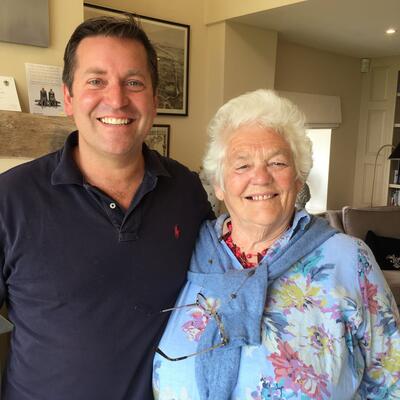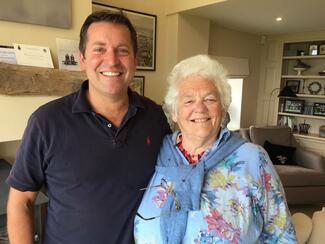 JILL HUTCHINSON-SMITH FRAgS, NSch 1952
It was Bob Matson, my farming mentor, who suggested that I might apply for a Nuffield Scholarship. I was astonished, especially as a woman, knowing that the scheme and its Scholars were highly regarded within the industry and up to that date had only encompassed one woman!
My Scholarship took me to Scandinavia and also Holland because dairy cattle have always been my great love. My Scholarship called 'The Prevention of Metabolic Disease in Dairy Cows', opened many doors including that of the Agricultural Professor at Uppsala University, who was enormously helpful.
Danish dairying inspired me to have a shot at making Blue Cheshire Cheese, a rare delicacy that had happened historically by mistake. We already made traditional Cheshire in our farm dairy and after much trial, error and losses, we cracked it and discovered the recipe! The sales grew, so we built a new creamery and bought our neighbours milk, as we did not have enough of our own. We trundled off to collect more with a Land Rover and milk porter! We were fortunate to be able to use Dairy Crest and their transport to distribute both at home and abroad – particularly France and U.S.A. We built our sales by exhibiting at both CIAL and ANUGA, the well-known food festivals in Paris and Cologne. On a sales expedition to The States, we called on Zabars (the well-known delicatessen in New York). When we told them our name, we fainted with surprise because they responded, "Not 'The Hutchinson Smiths'?". Their Buyer and his staff later came to see our dairy and we got on really well.
The epilogue is that we expanded and began making over 200 tons of Blue Cheshire each year. We won many prizes in dairying exhibitions including The World's Best Cheese in 1968 – a competition run in Norway for the World Cheese Awards.
Long Clawson of the Stilton fame asked to buy our business. I remember saying "get lost" or words to that effect! But my husband David, wiser than I, said "Let's think about it". Eventually, we sold the recipe (in my head) and spent weeks trying to teach them how to do it. They were unsuccessful, but Long Clawson was satisfied to have bought the opposition. They resorted to making Blue Shropshire, which is a nice coloured Stilton! It is not pressed like Cheshire. We retired, paid off all our debts and lived happily ever after!
When in Sweden, I fell in love with their Landrace Pigs and subsequently I was able to purchase two gilts from the 1952 importation to Scotland (The Scots were trying to improve their bacon quality).
We started a herd at Hinton alongside our large Whites and found them more profitable due to their leanness. Of course, the whey by-product helped the flavour and of course pigs dung increased the fertility of our soil, a great cycle. In those days a discerning landlord would take a new tenant providing he made cheese…good practise!
Anyway, our Landrace were successful and we sold pedigree stock in the some numbers, both boars and in pig gilts. We survived the dreadful Foot and Mouth of 1967 and helped re-stock others less fortunate.
My Nuffield Scholarship revolutionised my life, giving me real worldwide, lifelong friends and also the confidence to question established farming practise – I was fortunate to have read Agriculture at Edinburgh, so considered myself a professional! As well as being a farmer's daughter, later I was astonished to find myself Chairman of Nuffield Scholars Association (past Scholar's group) and subsequently Chairman of Fellowship of Royal Agricultural Society.
I have always felt very proud to be a Nuffield Scholar and have furthered prospective Scholars aspirations as well as I can. I enjoy our Conferences, hearing the remarkable papers presented by returning Scholars and come away full of confidence for the future of British Agriculture.