Having been 'kindly volunteered' by Stephen Fell to roust up some activity for the Nuffield Beef and Sheep Group, following a few years of dormancy, the first job was to ask a couple of host farms. Ably assisted by my Vice Chair Arwyn Owen, my director of logistics Sarah Yeomans, and with kind sponsorship from AHDB Beef and Lamb, we set about our task.
We are extremely grateful to our host farms for giving up their time and allowing us to visit
On 5th July we met at Marcus and Kathryn Bullock's Bank Farm, Abberley in Worcestershire. We were joined by Kate Phillips, independent sheep consultant and Harper Adams lecturer and other Lleyn breeders to discuss some of the projects that the Bank Farm performance recorded Lleyn Flock have been involved in. These included breeding for worm resistance, and the Bullock's harsh culling policy using their thirty years of data to speed up genetic improvement of their 600 breeding ewes and 300 ewe lambs.
AI was also discussed as 100-150 ewes are artificially inseminated annually, and the Bullocks have recently sold 400 doses of Lleyn semen to New Zealand. The flock has won AHDB 2018 Decade of Progress Award, in recognition of the advances that have been made. We also heard about the on-farm Helmsman Auction system used to sell Bank Farm rams annually.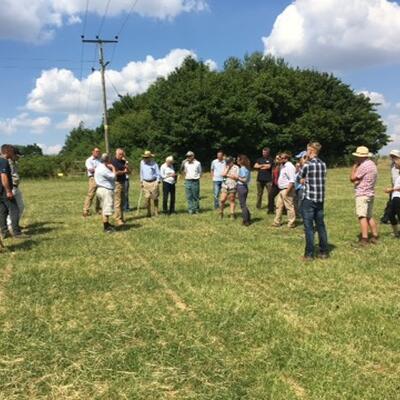 On the morning of 6th July, we headed to Adam and Sarah Quinney's Raines Farm, Sambourne in Warwickshire. Adam has been very involved with NFU for many years and more recently is chair of AHDB Beef and Lamb, so for he and Sarah simplicity of management is key.
Before the farm tour we had an incite-full chat with Adam about his philosophy regarding Raines Farm, UK agriculture, World agriculture, and possible future directions for AHDB.
With their closed 220 ewe flock they are moving towards 100% wool shedding having dropped from 700 ewes a few years back. The flock scans at an impressive 191% with all progeny finished on farm. The ewes run alongside a closed forty head suckler herd based on mainly Saler and Aberdeen Angus genetics. Again, progeny are finished on farm.
We had a very interesting and enjoyable couple of days and look forward to getting together with like-minded folk in 2019. We were very pleased to be joined by Michael Priestly of Farmers Weekly for both visits and Hannah Park from Farmers Guardian at Adam and Sarah's, who both wrote very interesting articles about their time spent with us.
Arwyn and I hope those of you who were able to join us enjoyed the visits and look forward to see even more of you along next year.
Please get in touch if you would like to be involved.
John Yeomans
yeomans.ranch@btinernet.com
Arwyn Owen
arwyn.owen@national trust.org.uk