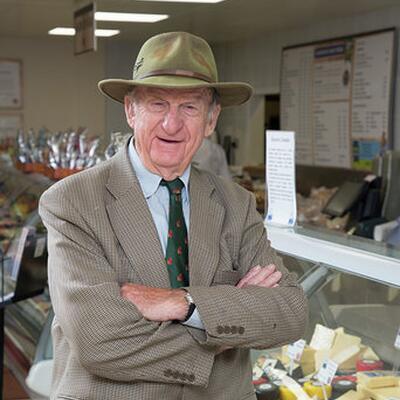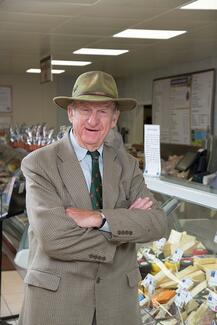 Alan Beckett obtained his Nuffield Farming Scholarship in 1957 but never imagined the effect it was going to have on him or his family's farming business.
His original aim was to see the new herringbone milking parlours in operation in America and decide if they would be the answer for his family's dairy farm in Worcestershire. He travelled 26,000 miles in a battered old car bought in the States, not just looking at parlours but working in them physically to gain experience. Importantly he also took any opportunity to learn about farming practices in general and began to realise the most important lessons involved finance and money management. He was learning about budgeting, cash flow and making money work for the business. Americans were far ahead of their British counterparts in that direction.
Returning home, Alan tried to convince the landlord to provide the necessary setup for a large, intensive dairy business, but was unsuccessful. So he thought instead about the progressive egg production units he had seen in the States. All in all, a far higher return on capital could be obtained than with dairying, and rapid expansion was possible. He persuaded his father to sell the cows and let him have a go.
His subsequent rise in the egg industry was meteoric, Becketts Farm becoming one of the UK's largest egg producers. Initially most of the eggs were sold at the back door and this has developed into a comprehensive retail operation which includes a butchery, bakery, greengrocery, deli, sandwich bar, gifts and goodies, and coffee shop. There is also a 170-cover restaurant, a conference centre and cookery school, in all employing over 100 people. The latter developments took place after egg production had been stopped in 1995 when Alan's son Simon, also a Nuffield Farming Scholar, took over as MD, and realised the writing was on the wall for commodity production. Alan has remained Chairman of the company.
Alan has served on the board of the British Egg Marketing Board, received an MBE in 1987 for Services to Agriculture, and was Chairman of both the NFU Poultry Committee and Midland Shires Farmers, then the largest agricultural co-op in the country.
To this day, Alan credits his Nuffield Farming Scholarship for his success. "As time passed, I realised the tremendous advantage I had over my contemporaries because of my Scholarship and what it had taught me. I believe in repaying what others give you and Nuffield gave me so much that, in 1996, my wife and I decided we would sponsor a Nuffield Farming Scholar of our own each year."
Alan and Anne have now funded 23 Scholars – all hands-on in farming or an allied land-based business – who have demonstrated an entrepreneurial or innovative spirit. The Becketts believe Scholarships are designed to develop the nous and potential of practising farmers who show an ability to think outside the box. The programme gives them the resilience they will need to overcome the unpredictable challenges that will undoubtedly lie ahead.