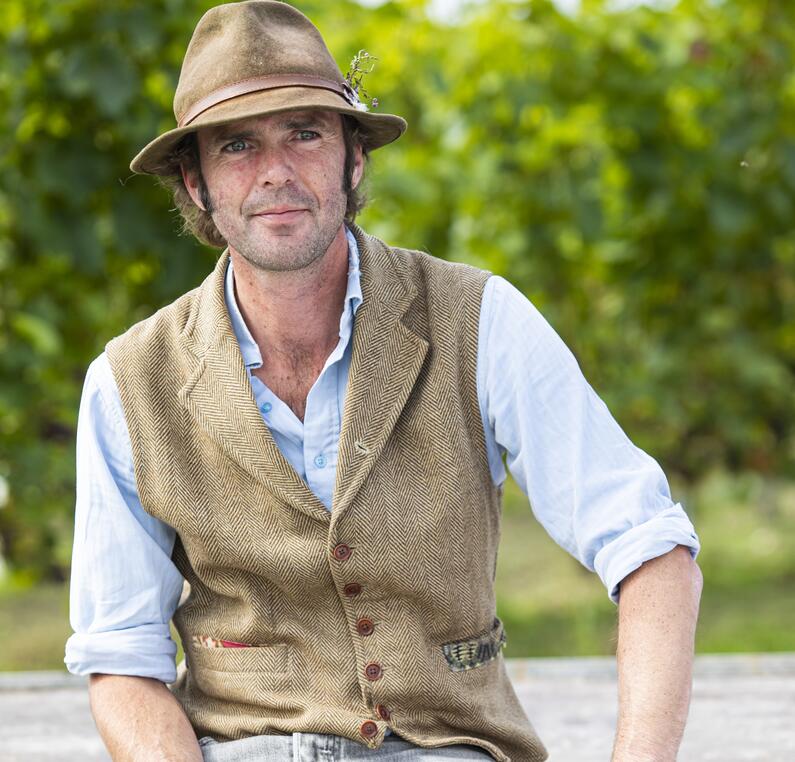 Frederick Langdale
I grew up on a small holding farm near Godalming, Surrey and I have always had an interest in farming. It wasn't until 2001 when I had the opportunity to work in New Zealand that my interest in viticulture was triggered. On my return to the UK I enrolled into Plumpton College, to pursue a better knowledge of viticulture. During the course I worked for an organic vineyard and winery near Tonbridge Wells.
In 2005 I leapt at the chance to travel to South Africa to work at a vineyard near Stellenbosch, I was able to stay for a whole year and witnessed the vineyard's complete seasonal cycle. On my return to the UK I worked at one of the UK's largest vineyards supervising the establishment of an 80 acre vineyard in West Sussex. After 2 years in that role I started to think of my next step and the opportunity of managing Exton Park Vineyard then arose.
It all started on the 1st of May 2008, at the time it was a 10 acre vineyard where I was the only employee and we sold our fruit to other wineries.  Moving on 11 years, we now have 60 acres under vine, our own winery, an established wine brand with 10 employees and I am now a partner in this very exciting and growing business.  Out of work, my wife and I try to control our 5 and 3 year old boys. We all enjoy and get involved in various country sports. We are kept fit by our two dogs and enjoy getting involved in various local events and activities. 
I'm very grateful to the John Oldacre Foundation for their sponsorship, to Malcolm Isaac for his encouragement as my employer, to my family and wife for their continuous help and support.
Frost protection and post frost care in cool climate viticulture.
Study Overview
The UK's vinicultural industry is still small (2888 hectares under vine,) but is growing rapidly (hectarage tripled since the year 2000). With this growth vineyards are popping up everywhere, some are more vulnerable to frost than others. I would like to research different methods of frost protection adopted worldwide with a hope of implementing better practices in the UK. 
Frost is not a new problem in cool climate agriculture. My experience on my own vineyard shows me that we are seeing warmer temperatures earlier in the season which results in earlier bud burst.  This should therefore allow a longer growing season. The downside is that we are increasingly vulnerable to late spring frosts. Radiation frosts are dealt with using an array of different fans, vineyard candles and gas heat blowers; all of which seem costly with no guarantee of working.
I am experiencing increased danger from advection frost, freezing winds travelling from Siberia burning the vulnerable shoots.  My project is to try and find a new, cost effective solution to protect against radiation frost but mainly advection frost. I also want to find out what the best care to a vineyard is after a frost event to be able to mitigate cost to a vineyard with low yields