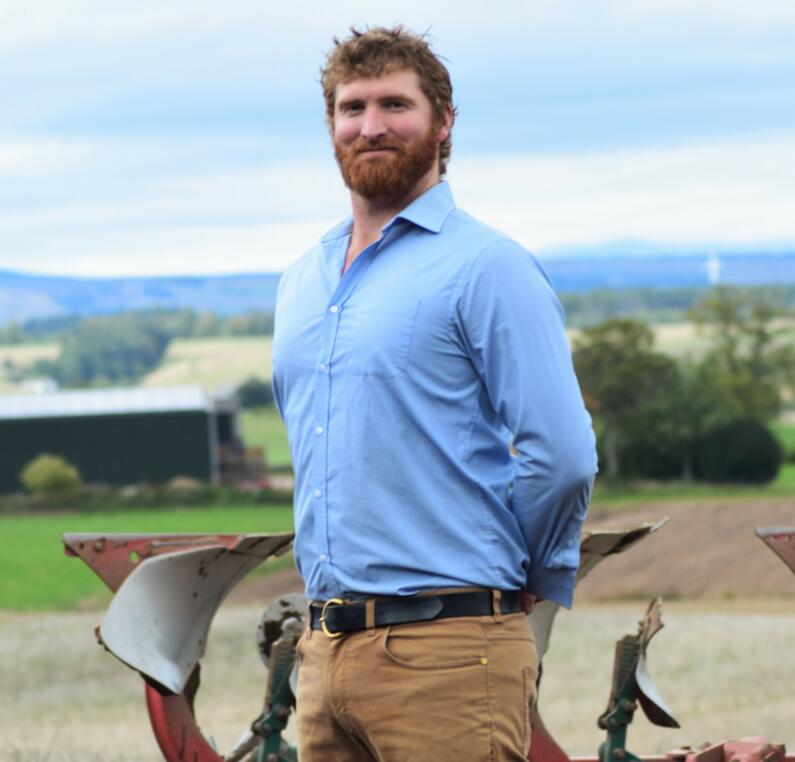 Thomas Clark
I returned to the family business on a full time basis in 2009 after completing my Agricultural degree at Edinburgh Scottish Agricultural Collage. I farm in Perthshire in partnership with my father across 480ha of mixed arable land. We crop in rotation with an eye for soil health and keeping good heart in the land. It is a traditionally run mixed farm cropping cereals, O.S.R, potatoes and includes a herd of 95 suckler cows, finishing cattle and lambs. Alongside the farm we run the Muirton Stud, breeding prize winning Clydesdale Horses. An enterprise that during my great grandfather's time supplied working Clydesdales all over Scotland. The horses are a great reminder of where we once were as a business in agriculture and how things have changed through time.
During any time away from the farm I have had much involvement in the SAYFC, taking national member of the year 2016 and playing a part in charity Pantomimes over the years. I also find great head space on the nearest mountain ranges and enjoy them all the more when covered in snow and with a piece of wood strapped to my feet.
Gate to grid, a responsible model for integrated energy production
Study Overview
I strongly believe that the agricultural sector must be part of the energy sector's future. Farmers are currently producing vast quantities of energy on farm in the form of calories from food production, but where will energy of the future come from? With a push for net zero and an increased demand for green energy supply from the consumer, I believe an equilibrium must be struck between calories and KW energy harvested from the land. I would like to get a good grasp on fellow farmer's views and adopted practices across the globe. In particular how a traditional farming setup can adopt and integrate energy production in a balanced and responsible manner. A model that can be adopted by many farms large and small. I strongly believe an integrated approach is a must for the industry and if taken up by farmers as another 'crop in rotation' could mitigate many negative factors.
I look forward to working alongside the Elizabeth Creak Charitable Trust as I believe they align well with my ambitions and drive for moving the agricultural industry forward in the right direction.