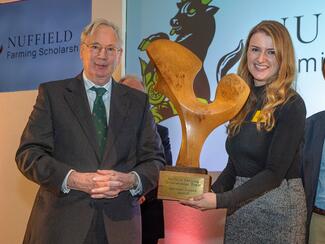 Aberdeenshire malacologist Dr Jenna Ross has been awarded the first edition of the Nuffield Farming Scholarships Trust's "Greener Future Award" for her work developing sustainable methods for fighting slugs. The award is also supported by LEAF (Linking Environment And Farming) in loving memory of the late Caroline Drummond MBE, who was also a Nuffield Scholar.
Vicky Robinson, Technical Director at LEAF says: "Caroline was a visionary and a champion for more sustainable farming. Her passion and determination to transform our farming and food systems through innovation, knowledge exchange and inspiring future leaders is embodied in the Nuffield Farming Scholarships Trust's Greener Future Award.
"Our congratulations to Dr Ross on receiving this inaugural award. Her pioneering work reflects Caroline's conviction that the pursuit of more sustainable, climate positive farming has to be farmer-led, practical and grounded in rigorous scientific research." 
In her presentation at last week's Nuffield Farming Conference in Cardiff, Jenna showed her passion for some of farming's toughest pests: "Slugs are one of the most successful animal groups in the terrestrial ecosystem – it takes just one slug to invade a new area and establish a population. In some cases, they can wipe out entire hills at huge economic costs and carry both human and animal parasites, making them dangerous pests as well."
Over-reliance on traditional chemical treatments for slugs has negatively impacted water systems and wildlife like birds and small mammals. This, combined with a looming ban on key product metaldehyde, has left the industry looking for alternative methods of control. To help address this issue, Jenna embarked on her Nuffield Farming Scholarship in 2017, and spent 6 months studying slug control across the globe before publishing her report.
As part of her work with CHAP, Jenna more recently worked as part of a multi-disciplinary team of scientists, engineers, AI experts, farmers and others on a project to develop and test SlugBot, an autonomous monitoring and treatment system. Developed as a tool for eradicating slugs, this technology can also be generalised for use against other diseases, weeds or pests.
Her role also includes leading international development and collaborations to cultivate new technologies and sustainable solutions for slug control, including biological controls and digital tools across Sub-Saharan Africa, the Middle East and Asia.
"The Greener Future Award is a fantastic opportunity for Nuffield Farming to highlight just one example of a Scholar who is passionate about driving the sustainability of British agriculture," explains Nic Snell, Nuffield Farming Trustee, "We as a Trust are reviewing our own impact on the environment and, as part of that effort, felt it important to recognise exceptional work being done in this area that will make a real difference for future generations.
"It was a difficult choice picking a winner from four outstanding finalists. In the end we chose Jenna not only because of the passion she demonstrated, but also due to the wide-ranging benefits her work is bringing to the farming community and beyond. It is a potential game changer for the industry as well as the natural environment."
The Nuffield Farming Greener Future Award is awarded biennially in acknowledgement of the importance of sustainability and the environment for the future of British Farming. It recognises a Scholar who has a significant focus on the environment and sustainability in their work, with the passion and drive to make a real difference for future generations.