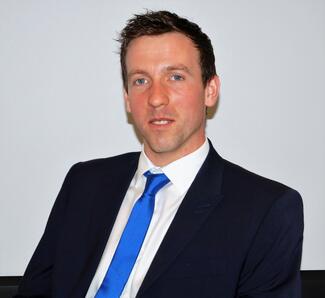 New Nuffield Farming report calls for greater farmer involvement in agri-tech development
County Antrim dairy farmer Barry J O'Boyle NSch 2018 has published his Nuffield Farming report titled 'Opportunities for UK farmers to grow wealth in the 4th Industrial revolution', sponsored by the Thomas Henry Foundation.
Barry travelled through Europe, North America, and South America during his study, speaking to agri-tech companies and accelerators, as well as farmers, to understand the emerging opportunities surrounding new technologies.
"For the first time in generations, the UK government along with other key stakeholders within the agriculture industry will have the opportunity to reshape the agriculture subsidy system that will support UK farmers in the future," says Barry. "Now is the time to examine the resources which should be available to UK agriculture and how best to exploit and leverage this in a global context."
Barry found that one of the greatest emerging opportunities for UK agriculture is the 4th industrial revolution, with the rise of "the internet of things" such as artificial intelligence, drones, and robotics. But during his travels he found that many agri-tech developments lack input from farmers and miss out on opportunities for on-farm testing.
"Farmers are central to developing new agri-tech products and there remain many innovative ways which the government and all stakeholders could explore to incentivise farmers to become more involved," he explains. "With this involvement, farmers and the general economy will benefit financially."
He concluded that while the UK is a world leader in research and development, there remain many opportunities to better commercialise and financially monetise the agri-tech sector that could greatly benefit UK farmers. "Farmers will need to adapt to a more entrepreneurial focused support system and agri-tech can offer one solution to a changing landscape of farm subsidy policy," concludes Barry.
His report is now available on the Nuffield Farming website at www.nuffieldscholar.org/reports or can be downloaded directly at bit.ly/3FJMudp.
Barry presented his findings during the 2020 Nuffield Farming Virtual Mini-Conference Series.
Scholarship Study Objectives
Identify how financially sustainable the UK will be in paying its farmers subsidies like that of the EU, medium to long term.

Identify at least one alternative way that UK farmers can at least maintain their income through more innovative methods, backed by government policy.

Understand missed opportunities within the current strategy with regards to growing the UK Agri-tech sector.
Countries Visited
United States, Chile, China, Germany, Denmark, Sweden, and The Netherlands
Global Focus Program - Netherlands, Ireland, United States (Washington & California), Mexico, Brazil New Zealand
Messages
The current subsidy model can no longer be relied upon as a main source of income by UK farmers in the medium to long term.

Innovation, return on investment and entrepreneurship should be the guiding principles of any new UK subsidy policy.

Innovation has been key to overcoming great disruption within other industries: agriculture will need to do the same and harness the opportunities of the fourth industrial revolution.

Farmers will need to embrace technology and the role that they can play in developing the Agri-Tech sector into an important sector within the UK economy.

For Agritech to become a strong manufacturing sector and economic driver within the UK, all stakeholders must find a common strategy to integrate further to increase the ability to create wealth for farmers.