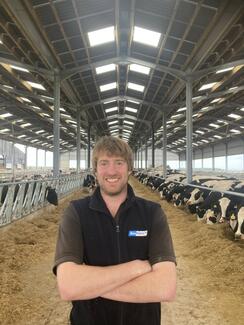 Scottish dairy farm manager Alisdair Cook NSch 2022 has now published his Nuffield Farming report entitled 'Utilisation and impact of robotics on large scale dairy farming', sponsored by The MacRobert Trust.
Hailing from southwest Scotland, Alisdair travelled to Canada, USA, Netherlands, Germany, Chile and Argentina to further his understanding of the topic, having selected countries either at the forefront of robotics or those considered major players in large scale dairying.
He focused on the feasibility of utilising robots on a large scale and assessed best practice while making use of the technology including the surrounding layout and the financial viability of an operation of size.
Following his study tour and having assessed his findings, he found robotic milking technology can indeed be a viable option for the large-scale producer, particularly due to the decrease in labour costs alongside higher milk yield and reduced replacement rates.
In the report, Alisdair said: "Operating box stall robots result in an increase in milk yield of between 3% and 10%, depending on the previous system. Evidence from these farms shows a reduction in replacement rate of up to 5%. Both these efficiency savings combined with a labour saving of up to 40% on large farms result in a net financial gain after robotic implementation."
Further to this, he also concluded that when operating at scale, a 'milk first' system is likely to be the most efficient. In this setup, cows are 'guided' around the system by the removal and presentation of certain inputs at certain times, helping to reduce the consumption of in-robot pellets.
Study objectives
To assess the feasibility of utilising robots on a large scale.

To determine whether robots are a financially viable option.

To determine best practice whilst utilising robots.
Messages
Robotic technology (RT) appears to be a viable option for the large-scale producer.

A decrease in labour costs combined with higher milk yield and a reduction in replacement rates results in a financial gain when using RT.

When operating on a large scale; a 'milk first' guided system appears to be the most efficient system.
The report is now available on the Nuffield Farming website at www.nuffieldscholar.org/reports or can be downloaded directly at https://bit.ly/45oF638.