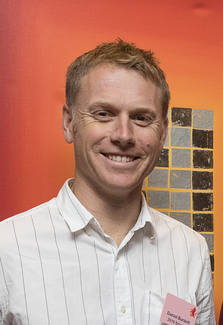 West Sussex organic dairy farmer Dan Burdett NSch 2019 has published his Nuffield Farming Report titled 'Regenerative Agriculture: Making the Change Happen'. His study was sponsored by McDonald's UK & Ireland.
"For many farmers who wish to change their system to reflect regenerative agriculture, there is no shortage of information that can be accessed on-line, in books or in person," Dan states in his executive summary. "Change in itself can be filled with challenges for a human race that feel more comfortable to follow the crowd. This report was undertaken to find out why farmers became involved with regenerative agriculture, the issues they faced and how they were overcome."
"For all the passion and desire for change, farmers still have to be able to stand apart from the crowd and be able to continue, despite the negative attention of those around them which can often lead to feelings of isolation. Central to overcoming the majority of these issues the farmer needs to understand their purpose and to put this at the centre of their decision making."
"It is also imperative that pioneering farmers are put at the heart of research and that their findings are disseminated through appropriate channels: by doing so it will be farmers that are kept at the heart of regenerative agriculture."
The report is now available on the Nuffield International website at www.nuffieldinternational.org/live/reports or can be downloaded directly at https://bit.ly/DBurdettReport. 
Dan presented his findings on Wednesday October 28th as part of the Nuffield Farming Virtual Mini-Conference Series. The recording of his presentation is now available on the Nuffield Farming Scholarships Trust's YouTube channel – https://youtube.com/c/NuffieldFarming. 
 
Study Objectives
To meet farmers who had started or were thinking of starting down the path of Regenerative Agriculture. 

To find out:

Why they wanted to do this

What were/are the challenges faced

How to overcome them 
Countries Visited
USA, UK, Ireland, France, Sweden and Australia; South Africa and Zimbabwe via phone interviews due to travel restrictions
Messages
Regenerative agriculture appeals to a broad range of farmers

The decision to change must work with your core beliefs in order to successfully transition to regenerative agriculture

You must ensure that those around you are fully engaged with the changes being made

Always look for the appropriate support to help achieve the objectives

There should be more emphasis on farmer-led research and improved dissemination back to other farmers