Oxfordshire-based Principal Adviser at Natural England Vicky Robinson NSch 2019 has published her Nuffield Farming Report titled 'Farmer to Farmer Knowledge Exchange: Relevance and Challenges During Change'. Her study was sponsored by The Central Region Farmers Trust. 
In her executive summary, Vicky states, "Building capacity, capability and social capital to enable resilience needs to happen; farmer to farmer knowledge exchange plays an important part in this. Knowledge exchange is a two-way process and we can choose whether to use our knowledge for our own benefit or share it for the wider benefit of the industry."
"Knowledge exchange goes wider than technical topics; it creates interactions vital for mental health, particularly during the uncertainty of change. Getting people off farms to a local group or simply connecting with another farmer to share 'what's keeping you up at night' is essential to prevent isolation and build mental resilience. You need to be 'optimistic to learn something new'."
The report is now available on the Nuffield International website at www.nuffieldinternational.org/live/reports or can be downloaded directly at http://bit.ly/VRobinsonReport.
Vicky presented her findings on Wednesday October 28th as part of the Nuffield Farming Virtual Mini-Conference Series. The recording of her presentation will be published this week on the Nuffield Farming Scholarships Trust's YouTube channel – https://youtube.com/c/NuffieldFarming.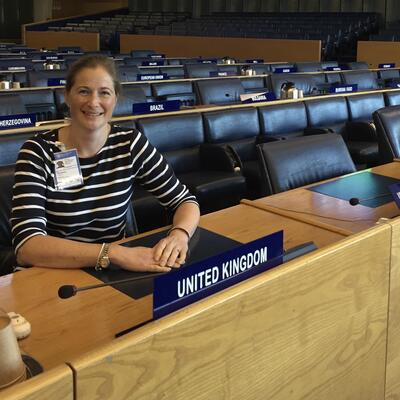 Study Objectives
Research the value of farmer to farmer knowledge exchange at times of change

Research the different methods of knowledge exchange

Research what creates the ideal environment for knowledge exchange

Research the impact of knowledge exchange during change 
Countries Visited
Austria, Belgium, Ireland, Italy, Australia, India, Canada, New Zealand, UK 
Messages
We are central to the solution, creating opportunities and normalising new practices. Individuals taking a lead to stand out from the crowd play a key role in enabling this to happen. 

The value of tacit knowledge is often not realised and trusted relationships need to be formed to enable it to be shared. 

People are complex; everyone is an individual so a variety of methods of enabling knowledge exchange will reach the widest audience. 

Knowledge exchange builds capacity, capability, social capital and good mental health which increases resilience to change. 

Farmers sit within a wider landscape of the supply chain and rural communities; knowledge exchange is of equal importance throughout. Networks need to be created within this to breakdown siloed thinking.