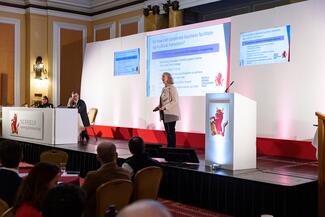 The Organic Research Centre Chief Executive Officer Lucy MacLennan NSch 2020 has published her Nuffield Farming report titled 'How can corporate business facilitate agricultural transition?', sponsored by the Central Region Farmers Trust.
As part of her Scholarship, Lucy travelled to the USA visiting Pennsylvania, Boston, Washington DC, New York, Washington State, and California. She looked at the Environmental, Social and Governance (ESG) Strategies of corporate businesses, and explored how they can encourage agricultural change and cascade through the supply chain.
"The purpose of this project was to understand the ways in which corporate business can genuinely drive change throughout agricultural supply chains through seeking examples of different methods and approaches taken to understand what has worked well and what has not, and how these approaches have affected farm livelihoods," said Lucy.
Lucy identified several key findings in her report, highlighting that there is no simple solution: "One size does not fit all, and it may be more appropriate to pursue a portfolio of desired outcomes which allow existing supply chains and farmers flexibility to identify their own solutions."
She calls for collaboration amongst charities, NGOs, academics and corporate businesses to fund vital work by experts which will drive change across the sector for the greater good and facilitate the agricultural transition. However, Lucy notes that action should be in the common interest and developments need to be marketed carefully to avoid shortcuts, greenwashing and customer confusion.
Finally, she warns that the balance of risk and reward should always be shared throughout supply chains, identifying that the current focus is for farmers to change their agricultural practices and that this can carry significant risk. She suggests that corporate customers should be prepared to help offset this risk and share in any associated reward.
The report is now available on the Nuffield Farming website at www.nuffieldscholar.org/reports or can be downloaded directly at https://bit.ly/3IlnHxO.
Lucy first presented her findings during the 2022 Nuffield Farming Conference in Cardiff City Hall.
Study Objectives
What influences corporate business to develop their Environmental, Social and Governance (ESG) strategies to encourage agricultural change

If and how corporate ESG strategy cascades through supply chains to farmers

If and how farmers are able to influence corporate ESG strategies

Which ESG driven activities can help to deliver agricultural transition
Messages
Away from the financial world and corporate boardroom there is little understanding of ESG in agricultural supply chains

Without full engagement ESG reporting can be little more than greenwash to manipulate a positive public image

ESG can effectively help transition agriculture to improve its impact on society and the planet, but to do so business has to prioritise public over private interests

ESG strategies could facilitate agricultural transition through providing much needed private investment in knowledge exchange, support services and research

The balance of risk and reward in delivering ESG strategies should be shared throughout supply chains