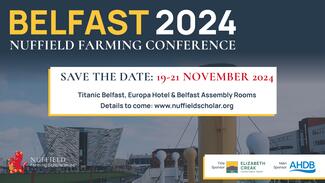 The Nuffield Farming Scholarships Trust has announced their return to Northern Ireland to hold their 2024 conference in Belfast. Following disruption to travel due to the COVID-19 pandemic, around 30 Nuffield Farming Scholars are due to present their findings at the event, which will occur 19-21 November 2024.
The conference will be held at several iconic locations throughout the city, including the Belfast Assembly Rooms, Europa Hotel, and Titanic Belfast. 'Belfast 2024' will have a three-day agenda featuring a welcome buffet, a formal Annual Dinner, and two days of Scholar presentations, including presentations from the first Nuffield Farming Next-Gen Scholars.
"Belfast 2024 is already set to be an exciting conference with a packed agenda, reflecting the importance of the Northern Ireland in UK agriculture and beyond," says Rupert Alers-Hankey, Director Designate of the Nuffield Farming Scholarships Trust.
"Delegates will hear from several year groups of Scholars, with study titles that reflect the length and breadth of the UK food, farming, rural and land-based industries. We are also looking forward to hearing from our first Nuffield Farming Next-Gen Scholars who will share their experiences from their 30-day study tour of the UK dairy industry."
The Belfast 2024 Nuffield Farming Conference is not just restricted to Scholars and is open to anyone with an interest in attending. Ticketing and other information will be made available in 2024.