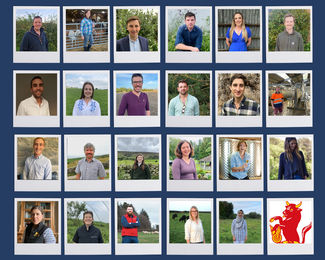 The Nuffield Farming Scholarships Trust has announced the appointment of 23 new Scholars for 2024 - the Trust's largest ever cohort.
Coming from a wide range of backgrounds, the Scholars will commence their studies next year and study topics around tea production, goat dairying, cider production, and artificial intelligence. Challenges around sustainability, resilience, climate pressures, and market forces in other UK farming and rural industries will also be explored.
Over the course of their Scholarships, they will travel internationally to gain an in-depth understanding of their study topic from global experts.
"Following a substantial number of exceptional applicants this year, we are delighted to announce our biggest ever cohort of Nuffield Farming Scholars," says Mike Vacher, Director of the Nuffield Farming Scholarship Trust. "Our 2024 Scholars have already displayed a clear passion for their chosen topics, and I have no doubt that they have the potential to become leaders who shape the future of agriculture.
"We are looking forward to introducing our 2024 cohort to the Nuffield Farming family at this year's 'Super Conference' in Exeter. This will be the pinnacle of what is already set to be a fantastic event, with over 30 Scholars presenting their study findings."
The 2024 Nuffield Farming Scholars are;
Dr Saba Amir (Craven Arms, Shropshire)
Can calf with cow dairy farming become the future of the dairy industry?

Generously supported by the John Oldacre Foundation
Laura Awdry (Truro, Cornwall)
Every Calf has a value, but is every calf equal? Sustainable and profitable dairy beef production in the UK

Generously supported by the Dartington Cattle Breeding Trust
Wallace Currie (Dumfries, Scotland)
Let's get Agricultural Education into the Tramlines

Generously supported by The MacRobert Trust
Lucy George (Cardiff, Wales)
Tea cultivation within agroecology - the development of a high value opportunity for UK farms.

Generously supported by Royal Welsh Agricultural Society
Jock Gibson (Dallas, Scotland)
Enhanced meat eating quality from 100% pasture and forage systems

Generously supported jointly by Royal Highland & Agricultural Society of Scotland and Worshipful Company of Butchers
Sophie Gregory (Thornecombe, Dorset)
What is the future for organic farming?

Generously supported by The Trehane Trust
Liz Haines (Stafford, Staffordshire)
Neurodiversity in Agriculture

Generously supported by McDonald's UK & Ireland
Dr Natalie Hepburn (Cardiff, Wales)
From farm to fork, from barn to brand; the models, advantages, and disadvantages of farm diversification

Generously supported by NFU Mutual Charitable Trust
Polly Hilton (Exeter, Devon)
Elevating the value of, pride in, and respect for British Fine Cider

Generously supported jointly by Worshipful Company of Fruiterers and Three Counties Agricultural Society
Dan Jones (Conwy, Wales)
Upland sheep farming, finding the balance: production, conservation and climate change

Generously supported by the John Oldacre Foundation
Hattie McFadzean (London)
Enhancing the resilience of the UK Dairy Sector: how do we prepare for increasingly volatile climate conditions?

Generously supported by AHDB
Gwion Parry (Gwynedd, Wales)
The disconnection between eating quality in the UK beef industry - from farm to fork.

Generously supported by Royal Welsh Agricultural Society
Ifan Roberts (Leicester, Leicestershire)
Inspiring the next generation of dairy entrepreneurs

Generously supported by The Trehane Trust
Tom Scrope (Great Ayton, Yorkshire)
Growing Together: Exploring New Ways of Farmer Knowledge Exchange to Secure Stronger Soils

Generously supported by Yorkshire Agricultural Society
Dan Smith (Monmouth, Gloucestershire)
Generation Regeneration. We need you.

Generously supported by McDonald's UK & Ireland
Jamie Stokes (Warboys, Cambridgeshire)
Doing more with less - Learning from the small to teach the big

Generously supported by the Worshipful Company of Farmers with Savills
Amy Stoner (Uppingham, Rutland)
UK Food Security: A forward-thinking approach to ensure resilient fresh produce supply chains

Generously supported by The Food Chain Scholarship
David Tavernor (Market Drayton, Shropshire)
Practically and profitably diversifying your farm business with black soldier fly production

Generously supported by Alan and Anne Beckett
Sam Watson-Jones (London)
Per plant farming, artificial intelligence and the future of arable farming

Generously supported by Elizabeth Creak Charitable Trust (a Clyde Higgs Scholarship)
Cormac White (Frome, Somerset)
Developing a sustainable grazing-based small ruminant dairy system suitable for New Entrants with alternative supply chain models

Generously supported by The Thomas Henry Foundation
Dr Annie Williams (Shrewsbury, Shropshire)
Minerals for ruminants - Are we getting it right?

Generously supported by The Richard Lawes Foundation
Harold Winslet (Bristol)
For peat's sake! Do we need a new approach to peatland agriculture?

Generously supported by Royal Norfolk Agricultural Association
Rachel Yarrow (Oxford, Oxfordshire)
The dream British Cheese Goat: could a pasture based dairy goat system ever work at scale in the UK?

Generously supported by Central Region Farmers Trust
Applications for 2025 Nuffield Farming Scholarships will open on Wednesday, 24th January 2024.
Tickets for the 2023 Nuffield Farming Conference in Exeter are now available to purchase. The conference is open to all and a connection to Nuffield Farming is not required. Ticketing and further details can be found on the Nuffield Farming website.