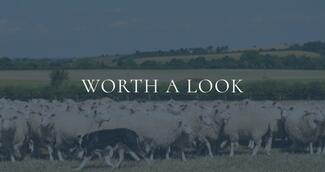 2020 Steven and Gillian Bullock Award
Agroforestry pioneer Stephen Briggs is the winner of the 2020 Steven and Gillian Bullock Award. 
Following the award of his Nuffield in 2011, where he travelled to countries which have successful agroforestry systems, Stephen set up the UK's biggest agroforestry system. On his 105ha Cambridgeshire farm Stephen planted 4,500 fruits trees alongside wheat, barley, and oats. Stephen believes that trees have made his farm more resilient to erosion and crop damage, as well as improving his crop performance, winter drainage and summer moisture retention, and biodiversity.
Stephen has worked tirelessly to promote the benefits of agroforestry by building a farm shop and education centre on his farm, lecturing at the University of Warwick, setting up the European Agroforestry Federation, advising various UK government organisations, working as Head of Soils at Innovation for Agriculture, and co-authoring 'The Agroforestry Handbook'.
2020 HSBC SALVER FOR THE BEST STUDY REPORT
Winner is Jenna Ross with her report 'Riding the Slime Wave: Gathering Global Data on Slug Control'
Jenna Ross from Aberdeenshire has won the 2020 HSBC Salver for the Best Study Report from her 2018 cohort of Scholars. Jenna's reported is titled 'Riding the Slime Wave: Gathering Global Data on Slug Control' and can be downloaded here: http://bit.ly/JRossReport. 
Jenna holds a PhD from University of Aberdeen which focussed on improving the production efficiency of biological molluscicides. She has developed this passion for improving methods of mollusc pest control into a career, where she has worked for Becker Underwood and Bioforsk on their biological molluscicide products. Jenna has worked all over the world promoting her work on slug control and has recently completed an MBA. She has also received a grant from Innovate UK to develop a game changing robot to monitor and control slugs through her role at Crop Health and Protection.