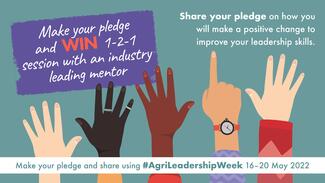 In this issue of Nuffield Farming News...
#AgrileadershipWeek is Next Week!

Nuffield events in May & June

21st - 22nd May Nuffield Poultry Group Spring Weekend

29th - 31st May Nuffield Golf Society

4th June Nuffield West Midland Group

15th June Nuffield Central Group

20th June Nuffield West Midland Group

22nd June Regeneration Agriculture Group

24th June Nuffield Scotland

28th June Nuffield Golf Society

Have you followed us on social media?

Scholar starts 'The Green Farm Collective'

Don't miss 'Down to Earth'!

'Women in Agriculture'

Scholar speakers needed in Brazil!

2022 Bullock Award

Nuffield's Home page...!