New Nuffield Farming Report published – Emily Norton: 'Breaking the Silos: Global Best Practice in Agricultural Policy Design'
Emily Norton NSch 2018, partner in her family's Norwich dairy business and Director of Rural Research at Savills, has published her Nuffield Farming Report. titled 'Breaking the Silos: Global Best Practice in Agricultural Policy Design'. It is now available on the Nuffield International website at www.nuffieldinternational.org/live/reports or can be downloaded directly athttp://bit.ly/2OGaIfe.
Emily's presentation of her study findings at the 2019 Nuffield Farming Conference can be viewed at http://bit.ly/39t1Xxg. 
Report Title: Breaking the Silos: Global Best Practice in Agricultural Policy Design
Sponsor: Royal Norfolk Agricultural Association
Countries Visited: Netherlands, Oman, Taiwan, Hong Kong, Canada, Cuba, Isle of Man
Study Objectives
To investigate the macro-and micro-policy environments supporting global farming businesses and how forms of business support other than subsidy (such as taxation, investment, procurement, competition law etc) could provide a beneficial and secure trading environment for UK farm business. 
Messages
Don't let the tail wag the dog in policy creation the first step is to define a clear policy hierarchy based on trade, environment and food security (both quality and quantity), then use this to define a budget and intervention for agricultural support.
Farm businesses are as much influenced by the micro economic trading environment as they are the macro economic framework. Policy makers need to understand the mechanics of these drivers and their cross departmental sources in seeking behavioural change.
Future agricultural policy in the UK appears to be changing the balance of risk and responsibility in farming, moving away from market intervention and income protection, and towards environmental protection and climate adaptation. Supply chains need to adjust to this as much as farmers do.
Production efficiency will continue to dominate the economics of food production, not least because it offers simple metrics when it is very hard to measure sustainability. Natural Capital Accounting may help rebalance economic thinking towards environmental reinvestment, but to do so it needs to be used in supply chains as much as in production systems.
Without intervention in our fundamental economic system, the twin drivers of efficiency and technology will continue to separate food production from natural resources. This may be exacerbated by net zero policies in food production and land use, which may further undermine the viability of traditional mixed farming systems.
To avoid exporting production to third countries whilst driving a rising climate and biodiversity baseline on land use, Government should seek to regulate supply chains via a Modern Food Act, akin to the Modern Slavery Act but for food, to ensure that all UK consumed food meets implicit and explicit UK food production standards.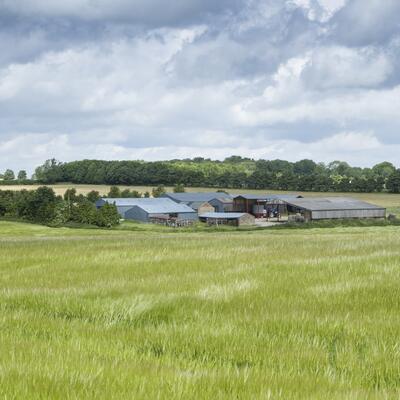 ###
Notes to the Editor:
The Nuffield Farming Scholarships Trust (NFST) is a registered charity (Reg. Charity No. 1098519) that awards approximately 20 scholarships annually in the UK to young people between the ages of 22 and 45 from across the agricultural industry.
There is no need for formal qualifications in order to apply for a Nuffield Scholarship; instead, the Trust looks to unlock an individual's potential and broaden horizons through study and travel overseas. Scholars are selected with a view to developing tomorrow's leaders within their individual business and the industry as a whole.
Nuffield Farming member countries span the globe, with established programmes in Australia, France, Ireland, the Netherlands, New Zealand, Kenya, and Zimbabwe; Associate countries also include Brazil, USA, South Africa, and Southern Caucasus (Armenia, Georgia and Azerbaijan).
Nuffield Scholarships are only made possible by the generous support of sponsors from across agriculture and the food industry. NFST work with over 100 sponsors to develop individuals who will become tomorrow's leaders and inspire change in our industry. 
Scholarship Eligibility
Applicants must work within the farming, food, horticulture, rural and associated industries or are in a position to influence these industries.
Applicants must be aged between 22 and 45 years (the upper age limit is 45 on 31st July in the year of application).
There is no requirement for academic qualifications, but applicants will already be well established in their career and demonstrate a passion for the industry they work in and be three years post-tertiary education.
Candidates must be resident in the UK and hold a UK passport or be working directly for UK agriculture.
Scholarships are not awarded to anyone in full-time education or to further research projects. 
For more information, please contact: