New Nuffield Farming Report published – Chris Rose: 'Anaerobic Digestion: maximising the outputs and reducing reliance on government subsidies'
Chris Rose NSch 2018, Exeter-based Anaerobic Digestion Technical Specialist for Amur Energy (part of AB Agri, has published his Nuffield Farming Report titled 'Anaerobic Digestion: maximising the outputs and reducing reliance on government subsidies'. It is now available on the Nuffield International website at www.nuffieldinternational.org/live/reports or can be downloaded directly athttp://bit.ly/2OL1sq9.
Chris's presentation of his study findings at the 2019 Nuffield Farming Conference can be viewed at http://bit.ly/2SzZM3Z. 
Report Title: Anaerobic Digestion: maximising the outputs and reducing reliance on government subsidies
Sponsor: John Oldacre Foundation 
Countries Visited: USA, Sweden, Germany, France, Switzerland, Poland and Netherlands
Study Objectives
To investigate potential business models of how AD can be a viable investment in the UK without additional government subsidies. Technical and legislative aspects will be investigated alongside social drivers for change in domestic food, waste and energy production.
Messages
The future for AD is the utilisation of wastes, residues and by-products and a shift to a model with reduced reliance on energy crop production. However, in an economic model with no subsidies every single output has to be maximised, not only the methane produced. 
Without government financial support AD has the potential to be a profitable working model when there is buy-in from a 'key stakeholder' that can take full advantage of the overarching benefits that AD can bring: this could be a local government, a sister business utilising by-products such as heat, CO2 or the nutrients produced, a utility company or a large corporation that is able to work towards their goals of zero waste and zero net carbon emissions.
On a national level, biogas has significant potential to help de-carbonise the domestic heat and transport sectors and requires very little large infrastructure changes. AD is a holistic solution to multiple problems in numerous sectors and should be valued accordingly.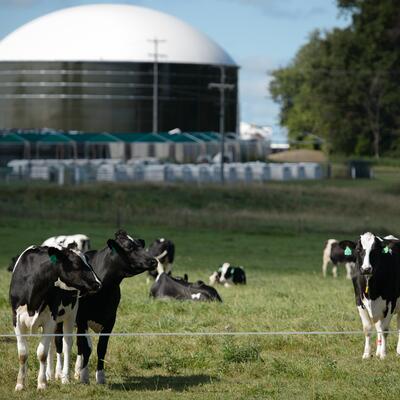 ###
Notes to the Editor:
The Nuffield Farming Scholarships Trust (NFST) is a registered charity (Reg. Charity No. 1098519) that awards approximately 20 scholarships annually in the UK to young people between the ages of 22 and 45 from across the agricultural industry.
There is no need for formal qualifications in order to apply for a Nuffield Scholarship; instead, the Trust looks to unlock an individual's potential and broaden horizons through study and travel overseas. Scholars are selected with a view to developing tomorrow's leaders within their individual business and the industry as a whole.
Nuffield Farming member countries span the globe, with established programmes in Australia, France, Ireland, the Netherlands, New Zealand, Kenya, and Zimbabwe; Associate countries also include Brazil, USA, South Africa, and Southern Caucasus (Armenia, Georgia and Azerbaijan). 
Nuffield Scholarships are only made possible by the generous support of sponsors from across agriculture and the food industry. NFST work with over 100 sponsors to develop individuals who will become tomorrow's leaders and inspire change in our industry. 
Scholarship Eligibility
Applicants must work within the farming, food, horticulture, rural and associated industries or are in a position to influence these industries.
Applicants must be aged between 22 and 45 years (the upper age limit is 45 on 31st July in the year of application).
There is no requirement for academic qualifications, but applicants will already be well established in their career and demonstrate a passion for the industry they work in and be three years post-tertiary education.
Candidates must be resident in the UK and hold a UK passport or be working directly for UK agriculture.
Scholarships are not awarded to anyone in full-time education or to further research projects.
For more information, please contact: