New Nuffield Farming Report published – Alexa Parker: 'Where Corporate Meets Family in Business'
Alexa Parker NSch 2018, who is Dairy Crest Milk Procurement Manager and involved in her family's dairy business in Cornwall, has published her Nuffield Farming Report. titled 'Where Corporate Meets Family in Business'. It is now available on the Nuffield International website at www.nuffieldinternational.org/live/reports or can be downloaded directly at http://bit.ly/2IjXPnm. 
Alexa's presentation of her study findings at the 2019 Nuffield Farming Conference can be viewed at http://bit.ly/39n7bL9.
Report Title: Where Corporate Meets Family in Business
Sponsor: The Trehane Trust
Countries Visited: UK, Ireland, the Netherlands, New Zealand, USA, Chile and Ecuador
Study Objectives
Establishing what family run business can take from corporate organisations
Getting to the heart of what makes corporate successful and exploring family businesses that have adopted corporate structures whilst importantly retaining their family values.
Messages
This report is for family run farms to read and find ways to enhance their business even further by learning some 'tricks of the trade' from the corporate world, taking the best bits, whilst retaining their own individuality and staying true to their family values. For example, how to set the right boundaries, drafting in the experts, stepping back and playing to strengths.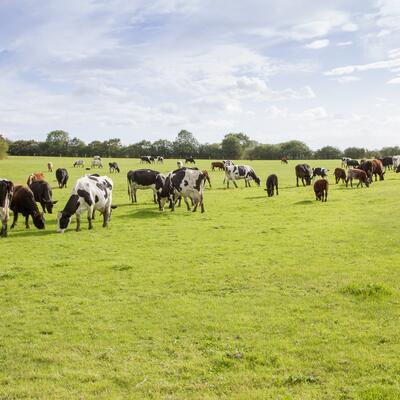 ###
Notes to the Editor: 
The Nuffield Farming Scholarships Trust (NFST) is a registered charity (Reg. Charity No. 1098519) that awards approximately 20 scholarships annually in the UK to young people between the ages of 22 and 45 from across the agricultural industry.
There is no need for formal qualifications in order to apply for a Nuffield Scholarship; instead, the Trust looks to unlock an individual's potential and broaden horizons through study and travel overseas. Scholars are selected with a view to developing tomorrow's leaders within their individual business and the industry as a whole.
Nuffield Farming member countries span the globe, with established programmes in Australia, France, Ireland, the Netherlands, New Zealand, Kenya, and Zimbabwe; Associate countries also include Brazil, USA, South Africa, and Southern Caucasus (Armenia, Georgia and Azerbaijan).
Nuffield Scholarships are only made possible by the generous support of sponsors from across agriculture and the food industry. NFST work with over 100 sponsors to develop individuals who will become tomorrow's leaders and inspire change in our industry. 
Scholarship Eligibility
Applicants must work within the farming, food, horticulture, rural and associated industries or are in a position to influence these industries.
Applicants must be aged between 22 and 45 years (the upper age limit is 45 on 31st July in the year of application).
There is no requirement for academic qualifications, but applicants will already be well established in their career and demonstrate a passion for the industry they work in and be three years post-tertiary education.
Candidates must be resident in the UK and hold a UK passport or be working directly for UK agriculture.
Scholarships are not awarded to anyone in full-time education or to further research projects.
For more information, please contact: