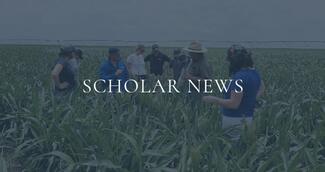 The Nuffield Farming Scholarships Trust (NFST) has announced the appointment of the 2021 Nuffield Farming Scholars, who are to commence their studies next year.
The 20 Scholars, who come from across UK farming and rural industries, will seek guidance from industry leaders, experts and pioneers as they undertake their studies.
"Following an unprecedented and challenging year for UK agriculture, we are pleased to announce our 2021 Scholars," says Mike Vacher, Nuffield Farming Director. "They have been carefully selected for both their passion for their chosen topic, and for their potential as future leaders within UK agriculture."
"Our 2021 scholars have selected a range of topics that span the breadth of the industry, including livestock, soft fruits, aquaculture and workforce diversity. A Nuffield scholarship is a life changing experience, and will no doubt prove invaluable to both Scholar businesses and to the industry as a whole."
"On behalf of Nuffield Farming, I wish the 2021 Scholars the very best of luck as they prepare to start their studies. We are excited to hear more about the knowledge and experiences you gain over the course of your journeys. In these ever-changing times, what you bring back with you will play a vital role in driving UK agriculture forward," adds Mike.
A full collection of Scholar headshots can be downloaded here: https://we.tl/t-eFKtZn9Ne1.
The 2021 Nuffield Farming Scholars are;
Ranald Angus (Caithness, Scotland)
Topic: '"Bridging the carbon divide" - Marketing soil sequestered carbon for economic, agronomic & climatic regeneration'
Generously supported by The MacRobert Trust
Ian Baggs (Dorset, South West)
Topic: 'Sustainable forage cropping for dairy cattle in the face of climate change challenges'
Generously supported by The Trehane Trust
Matthew Blyth (Sussex, South East)
Topic: 'Evaluating the potential cost benefits of electronic data recording for UK sheep and beef farms'
Generously supported by The John Oldacre Foundation
Anna Bowen (Ceredigion, Wales)
Topic: 'Can the UK improve the ethics of its dairy calf management while retaining profitability?'
Generously supported by The Elizabeth Creak Charitable Trust (A Clyde Higgs Scholarship) - A Young Nuffield Award
Richard Copas (Buckinghamshire, Central)
Topic: 'The mechanization of cherry production and harvest'
Generously supported by Malcom Isaac NSch
Dan De Baerdemaecker (East Sussex, South East)
Topic: 'Influences affecting management and productivity of deer as a semi-domesticated species in an intensive farming system'
Generously supported by The Studley College Trust
John Gray (Angus, Scotland)
Topic: 'Fresh produce supply chain excellence - Growing our share of the value chain'
Generously supported jointly by Royal Highland and Agricultural Society of Scotland & the Worshipful Company of Fruiterers
Keith Gue (West Sussex, South East)
Topic: 'Could Dairy be the Pig and Poultry of the future?'
Generously supported by East Sussex NFU
Geoff Guy (Nottinghamshire, East Midlands)
Topic: 'Deer Farming and Landscape Scale Management of Wild Deer to Combat Habitat Degradation and Produce Sustainable Venison in the UK'
Generously supported by The John Oldacre Foundation
Camilla Hayselden-Ashby (Kent, South East)
Topic: 'Hemp: how can UK farmers take advantage of this profitable, sustainable crop?'
Generously supported by NFU Mutual Charitable Trust
Robert Howe (Lancashire, Northern)
Topic: 'Exploring & defining the role of Farm Vets within Regenerative Agriculture'
Generously supported by AHDB
Aisla Jones (Greater Manchester, Northern)
Topic: 'How can retail and supply chains create demand for more sustainable aquaculture feed?'
Generously supported by The Richard Lawes Foundation
James MacCartney (Rutland, East Midlands)
Topic: 'UK red meat production: How to win the battle for environmental sustainability in the mind of the consumer'
Generously supported by Worshipful Company of Butchers
Chris Manley (Somerset, South West)
Topic: 'Taking Agriculture to the Leading Edge: What can we learn from the best leaders inside and outside Agriculture?'
Generously supported by Worshipful Company of Farmers with Savills
Adrian Marshall (Suffolk, Anglia)
Topic: 'Can welfare expectations of consumers be met by the UK commercial egg sector in the short and long term?'
Generously supported by The BEMB Trust
Emily Aitchison (Suffolk, Anglia)
Topic: 'Farm to glass: Assessing how farms can benefit from future trends in the drinks industry'
Generously supported by Alan and Anne Beckett NSchs
Navaratnam (Theeb) Partheeban (Essex, Anglia)
Topic: 'Encouraging and supporting an ethnically diverse workforce in the agricultural, farming and veterinary sector'
Generously supported by McDonald's UK & Ireland
Gary Thompson (County Antrim, Northern Ireland)
Topic: 'Breaking dairy farming's addiction to inorganic fertilizer: The road to rehabilitation'
Generously supported by The Thomas Henry Foundatio
Edward Towers (Lancashire, Northern)
Topic: 'Atmospheric carbon to organic matter to crypto/e-currency'
Generously supported by The John Oldacre Foundation
Claire Whittle (Wrexham, Wales)
Topic: 'Do regenerative agriculture principles improve the health and welfare of livestock?'
Generously supported by McDonald's UK & Ireland