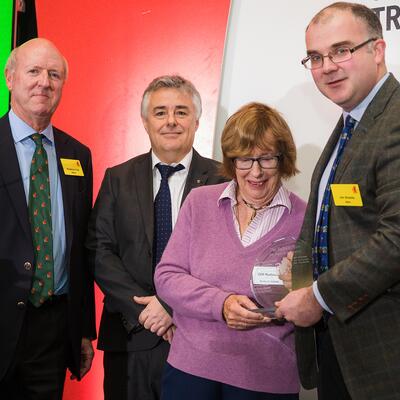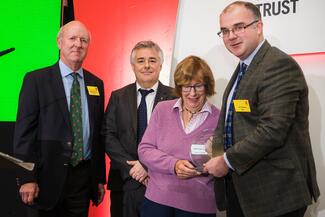 It's not that unusual for a Nuffield scholar to turn around a struggling business thanks to the inspiration and insights gained from their Nuffield experience. But how many can claim to have resurrected a whole industry?
2019 Steven And Gillian Bullock Award
The winner of the 2019 Bullock Award set out on his travels aiming to explore the opportunities offered by on-farm energy generation. He came back to his farm in the Scottish borders convinced of the potential of generating energy from wind and biogas. But he also had his eyes opened to the possibility of developing new on-farm businesses that exploit the by-products created by these projects.
Things didn't start well. His initial proposal for a wind turbine sparked a serious opposition campaign, co-ordinated from the local shop, which succeeded in scuppering the plan.
Undeterred, our winner pressed on, this time with a successful proposal for a biogas generator. The 200kW plant now operates 8,575 hours a year at full capacity, putting it in the top 2% in the UK.
But it was what he did with the waste products from the plant that really put our winner on the map.
A decade ago the Scottish tomato industry had virtually disappeared. In the 1950s there had been hundreds of tomato growers north of the border, but by the start of the 21st century there were only a handful of specialist producers, and in 2009 the biggest of those that remained shut up shop.
Undeterred, our winner built a 4 acre tomato glasshouse, heated by waste heat from the biogas generator and using its carbon dioxide exhaust to accelerate crop growth. The glasshouse was opened by Her Royal Highness Princess Anne in 2017.
Back in 2009 the farm produced 1.6m litres of milk from 500 acres.  Now it produces 1.8m litres of milk, 1,600Mwh of renewable electricity, 8,000Mwh of renewable heat and 750t of tomatoes for Morrisons and Asda - still from the same 500 acres.  Employment has gone from 3 to 40 and pre-tax profits from £90,000 to £750,000.
In a few years, our winner took the worst performing four acres of land on his farm and turned it into the most productive in rural Scotland, resurrecting the Scottish tomato industry in the process. He's particularly proud of the fact that the local shop that once co-ordinated opposition to his plans now stocks his tomatoes.
Please join me in congratulating the winner of the 2019 Steven and Gill Bullock Award - Jim Shanks.