BARRY O'BOYLE FROM ANTRIM, NORTHERN IRELAND, ATTENDED THE BRAZIL GFP:
What an incredible Journey the GFP has been. After travelling seven countries around the globe, you truly get a deeper understanding about global agriculture. I learned many new insights, from changing diets of Millennials towards veganism, to the adoption of agtech to increase productivity.
The third country we visited was the USA. The state of California has some of the most productive farmland in the US. The state produces 8% of the total output of US agriculture. Fields here are open flat plains, heavily reliant on irrigation.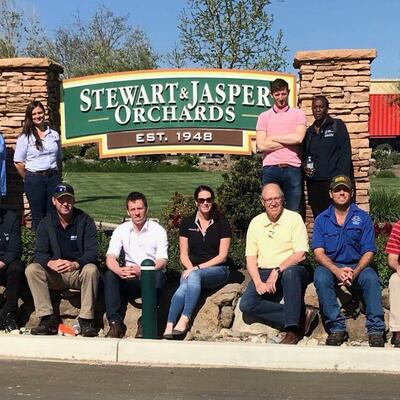 As we travelled through the area we quickly realised that almond production is a booming multibillion-dollar industry. Although the state is perfect for almond production, the biggest challenge facing agriculture in California is the availability of water and the cost of water rights. As we travelled through Brazil, one region that stood out was Mata Grosso located in the centre of the country. Soybeans, cotton and corn are the main crops grown, most of which are destined for export markets around the globe. In Mata Grosso our group also visited an impressive 280,000 ha diversified farm business owned and operated by the same family, built up over two generations. Although Brazilian agriculture has been content with being a low-cost commodity exporter, we noticed that this is changing with more investment into processing facilities, there is a clear strategy to value-add before they are exported to maximise farmer margins. Brazil however, has many challenges facing agriculture with the lack of investment in key road and rail infrastructure being one of main areas for improvement.