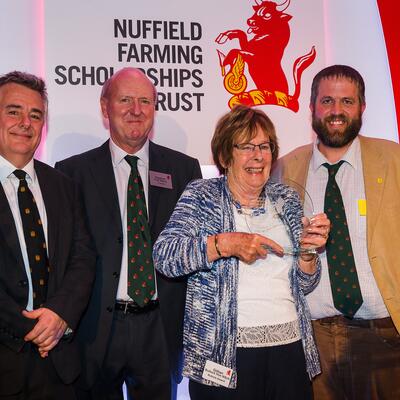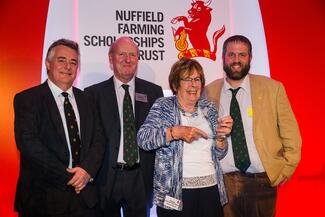 The winner of the 2017 Steven & Gillian Bullock Award knows more than most what it means to build a business in the face of adversity.
That statement could apply to any of our 4 finalists. But our winner responded to a potentially disastrous and unforeseen business failure by redirecting his Nuffield research project to study how entrepreneurs can overcome serious challenges to build farm diversification businesses. I'm sure that you've guessed by now - the winner of the 2017 Bullock Award is Andrew Gage!
When Andrew won a Nuffield Scholarship, to investigate the development of a warm-water aquaculture industry in the UK, he was running a fish farming business on the family farm he had recently taken over. But before he could embark on his travels disaster struck: Unexpected legal problems with one of his suppliers forced him to close the fish business. The calamity put his entire farm under threat, and completely pulled the rug from under his Nuffield plans.
Andrew offered to give up the scholarship, but was persuaded instead to change his topic - to study how entrepreneurs can overcome serious challenges to build farm diversification businesses. He travelled to Australia and South Africa, seeking out farmers who had developed successful diversifications in tough conditions. Inspired by what he saw, and convinced that a positive, can-do mindset was the key to success, he returned to the UK fired up to rebuild his business.
He sold half of the farm to raise cash, relieving the immediate pressure on his finances. This also allowed him to expand the duck-rearing operation he had set up after reading in Farmers Weekly that Gressingham was looking for new suppliers. This is now a six-figure business, selling almost a quarter of a million ducks a year to Waitrose.
He's also built business units on the farm, which he rents out. But Andrew's biggest success is his newest venture, making spherical metal firepits with intricate designs cut into the metal.
He started the business after seeing a firepit for sale on Facebook for $17,000. Though he had never used a plasma cutter and only achieved an E in his Art GCSE, Andrew found a company in China that could supply hollow metal spheres and set to work. Four years on he now sells more than 800 firepits a year.
In 2017 he expects to turn over more than £1m, with firepits his biggest earner. Having laid off all but two of his seven staff in the bad times, he now employs nine people just in the firepit operation.
Not content with this, Andrew is working on plans for additional on-farm businesses. He recently got planning permission for a fishing lake - a personal passion. Once that's established he'd like to add accommodation - he talked enthusiastically to us about an idea to build up-market lodges full of arty products that customers can buy.
The judges were hugely impressed by Andrew's unbridled enthusiasm, his can-do attitude inspired by his Nuffield experience and his sheer grit and determination to build successful businesses on his farm.