Location
Sandy Park, Exeter
Darts Farm - Farm Visit
Join us for a pre-conference tour around Darts Farm!
Darts Farm is a vibrant, farm shopping experience, with the team having won Best Farm Shop in the UK a record 3 times. A family business run by 3 brothers, with Michael and James having created the retail experience and brother Paul heading up the farm. It really is unique, with a food hall full of homegrown, local, seasonal and artisan produce, an inhouse chocolatier, vineyard & winery and small-batch cidery, along with amazing home, lifestyle & outdoor departments and a Wellness Spa. It really is a full day out, with 3 restaurants/cafes on site, a takeaway Shack and fish and chips from the Fish Shed.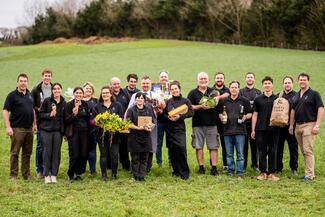 Lunch Optional!
Why not have lunch in one of the 3 restaurants as Darts Farm!
All three of the restaurants/cafes are open from 12pm for lunch and guests can take time to wander around the different departments too. Please see menus attached (these may vary slightly with the seasons).
Darts Farm Main Restaurant - Menu
To book a table for lunch please email Zoe Gresham [email protected]