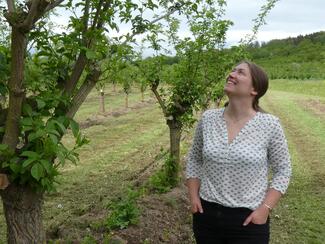 Alice Jones NSch 2019, Senior Food Innovation Advisor and Sensory Scientist at the University of Nottingham, has published her Nuffield Farming Report titled "Cultivating elders for the UK processing industries". Her study was sponsored by Thatchers Cider.
As part of her role at the University of Nottingham's Enabling Innovation team Alice provides food science consultancy to Small and Medium Enterprises (SMEs) within the food and drink industry. Alice is passionate about providing businesses with bespoke applied research, and knowledge exchange isx a key element of this.
In her executive summary Alice states, "Knowledge exchange in this area in the UK has been largely unheard of, yet the value of collaborative working for growers and processors is highlighted as being key to the developmental success in other parts of the world and in creating support mechanisms that aid sustainable growth.
"The real key to knowing how to grow elder is not about following a prescribed list of treatments, but more about understanding the botany of the species, how it likes to interact with its local environment (above and below ground) and the fundamental principles behind how you work with it and your land to select or recreate optimal conditions. Deeper understanding provides a toolkit to apply to one's own land and operation and allows adaption of approach to ensure a long term, sustainable crop."
The report is now available on the Nuffield International website at www.nuffieldinternational.org/live/reports or can be downloaded directly at http://bit.ly/AJonesReport.
Study Objectives
Learn husbandry practices to cultivate elder as a productive crop plant. 

Investigate suitable growing systems and setups for elder. 

Understand how to encourage collaboration, knowledge-sharing and support mechanisms associated with developing elder as a new crop. 
Countries Visited
USA (Oklahoma, Missouri, Michigan, Vermont, Maine, Minnesota, Wisconsin), Canada (Quebec, Saskatchewan), Holland, Belgium, Germany, Austria, Slovenia, Romania, Poland, Portugal, UK
Messages
The UK native species of elder is a useful supplementary tree crop, from which flowers or berries can be obtained for a variety of applications 

Understanding elder's botany is key to adapting conditions for success. 

Several key management practices are essential for productivity and longevity. 

Engaging in the whole chain or developing strong grower- processor partnerships is essential, since berries and flowers are ingredients requiring processing. 

Globally, elder cultivation and the composition and functional properties of elderberries and, to a lesser extent, elderflowers are being researched and exploited, yet is understudied in the UK. 

Countries successful in creating new elder product markets have done so through a collaborative approach between growers, processors and academics.