The vision of Nuffield International is to develop people to make a difference in the world of agriculture. This work is done by developing the individuals in agriculture who will shape the future of agriculture and our local and global communities.
A non-profit organisation with a global footprint, Nuffield International encompasses our member countries of Australia, Brazil, Canada, France, Ireland, Netherlands, New Zealand, United Kingdom, and Zimbabwe. In addition, Nuffield International leads efforts to support the engagement of the program into new countries. Currently, Nuffield International is administering the development of the scholarship program in Chile, Germany, Japan, South Africa and the United States of America - with a view to continually expand this unique opportunity to other agriculturists from all over the world.
Nuffield International is a new 'stand alone' organisation with its own legal entity and CEO. Jodie Redcliffe is the CEO of Nuffield International, with Andrew Fowler as the Chairman and Mike Vacher as the Company Secretary and Financial Director.

Nuffield International Board
This is made up of a Chairman (3 yrs Post) and the country Chairmen of all the member countries. Historically this group met at the triennial conference and sometimes in between to discuss matters of importance to Nuffield as a whole that were common across all countries.  More recently the board, together with each countries Chairman, meet each year at the Contemporary Scholar's Conference (CSC) wherever that is being held. Several sessions are set aside for the board to meet to discuss and decide policy.
Aims of Nuffield International
Nurture the Nuffield Farming Scholars heritage and build on its legacy

Develop and inspire leadership in individuals in agriculture

Provide a model for existing and future member countries

Encourage international agricultural communities and organisations to become involved with the Nuffield program, increasing cooperative learning through the resulting globalised agricultural network

Promote resources and experts to inform and advise policymakers, governments, and NGOs and build global reach in the world of agriculture

Challenge thinking, encourage innovation, and ensure the transfer of knowledge and ideas locally and globally
The Contemporary Scholars Conference (CSC)
Nuffield International develops the annual CSC, a week-long program for newly selected scholars, which is hosted by member countries and rotated between the Northern and Southern Hemispheres.
The CSC is a targeted way of investing directly into the advancement of world agriculture. It provides a forum for newly selected Nuffield Scholars. Participants are introduced to a worldwide network of farmers and agriculturalists and establish close ties with like-minded organisations. It provides an experience that stretches scholars mentally and emotionally and draws them to a wider view of agriculture and its pivotal role in society. Scholars consider trade and policy issues affecting agriculture internationally, and those that determine its future. Participants also gain a cultural and ambassadorial experience and develop skills in leadership at both a practical and political level.
The CSC challenges conventional wisdom and makes scholars question their beliefs. They consider the impact of broad international issues at a local level through a broad range of internationally renowned speakers, farm and agribusiness visits. Themes and visits are evaluated through workshop discussions to draw consensus and a conference communique.
Nuffield International strives to assist in the development of future leaders in agriculture by assisting to increase practical farming knowledge and management skills through CSC.
The 2022 CSC Book
The UK was pleased to host two cohorts totalling over 120 scholars from 15 countries for a week based in Norfolk and London.
(click on the square, bottom right, to view full screen)
Nuffield Triennial International Conference
Nuffield International is also responsible for overseeing and supporting the host country for the International Triennial Conference. This two-week event promotes agricultural and rural land-based business, education and experiences by scholars worldwide as opposed to new scholars as in the case of the CSC. Most importantly, it also provides a forum for the alumni to meet and debate current agricultural issues and engender a spirit of progress and renewal. This has proved to be a very worthwhile experience for all Nuffielders. This used to be the main forum where the Country Chairman discussed international matters. This now largely happens at the CSC.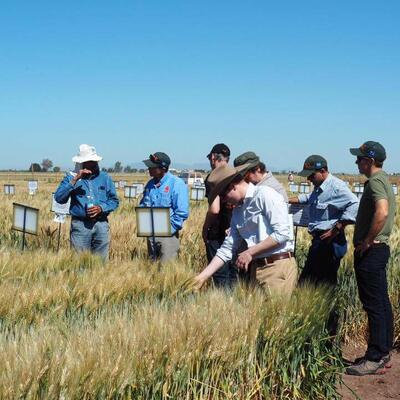 Nuffield International Scholarship
Nuffield International is now awarding International Scholarships. The organisation offers an opportunity for applicants from non-members countries to be awarded a Nuffield Farming Scholarship annually as part of building the most important resource in agriculture – human capital. The selected scholar participates in the one-week CSC, the GFP and completes a minimum eight-week study on the individual topic of their choice in countries that best suit their individual needs.
Nuffield International is of the view that the experience gained by Nuffield Scholars from around the world will be enhanced by widening our network to include international scholars in countries that don't currently participate in the program. More diversity within Nuffield will give greater experience for all and the possibility of increasing the Nuffield Family over time as the number of Nuffield Scholars in new countries reaches a 'critical mass'.